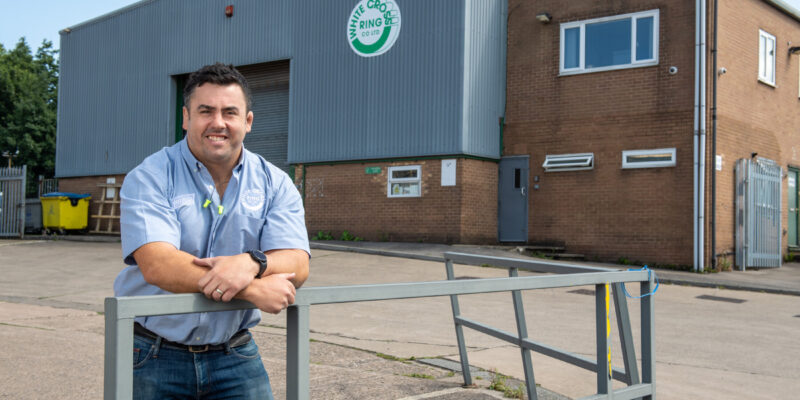 White Cross Ring has been manipulating metal for over 50 years. The company was founded in the 1960s when two partners set up a business manufacturing angle rings, washers, and flanges.
Soon, their quality products and entrepreneurial mindset saw White Cross Ring expand its offering into tube bending and fabrication. With demand in this sector steadily increasing, White Cross Ring is now firmly established as a leading bespoke supplier.
BLM ELECT 52 All-Electric CNC Tube Bending Machine
To support the company's continued growth and the escalating need for its tube-bending services, White Cross Ring has recently invested in an ELECT 52 Multi-Stack All-Electric CNC Tube Bending Machine from BLM GROUP, as MD Tom Horner explains:
"We're an old-fashioned shop floor. In fact, we have a ring roller from 1978!" he says. "We've had a few good years recently and I want to ensure we invest. This kind of machinery will keep us on the cutting edge of the industry."
With two BLM NC842 tube benders already pulling their weight on the shopfloor, BLM was a natural choice for White Cross Ring's investment. "They've been really good machines," says Tom. "We're comfortable purchasing another BLM. Knowing we'd get the right level of support through BLM UK felt like we had that comfort blanket; nothing was a problem."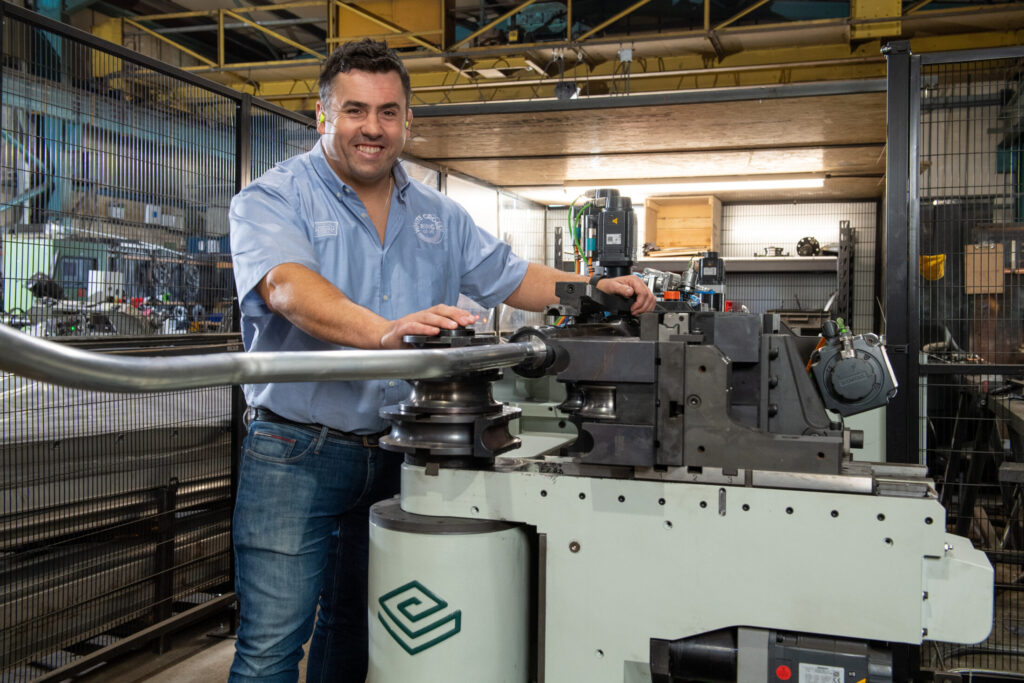 ELECT 52 features
The ELECT 52 is at the mid-range of BLM's comprehensive ELECT range, which boasts machines capable of manipulating tubes up to 150mm in diameter.
Its features and applications are as diverse as they are impressive. They include left or right-hand multi-radius bending of tubes up to 50mm diameter, simultaneous multi-tool capabilities, automatic seam and hole detection, and a pneumatic split bend die for bending square and rectangular tubes.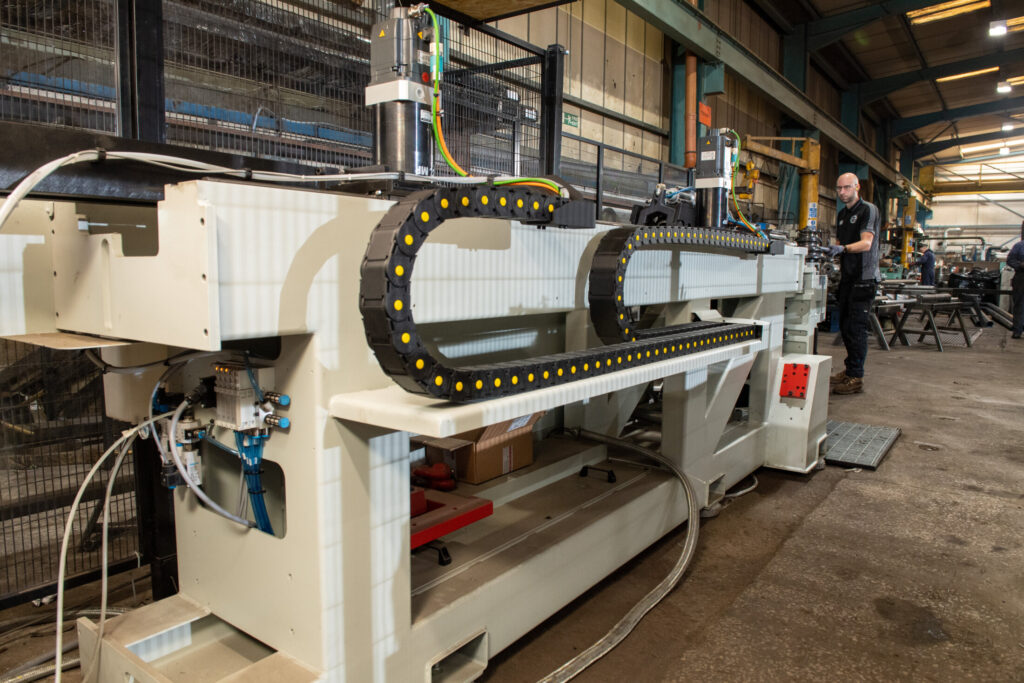 The machine is now well embedded at White Cross' Bradford-based facility. Its multi-tool functionality has proved invaluable in producing ladders for the commercial industry, as well as machining other steel, stainless steel, and aluminium parts, including safety collision barriers, bicycle parking, and furniture components.
"The ladders get bent and then rolled, which is a long, lengthy process," Tom says. "Normally, we'd have to put them on two different machines, but with the ELECT, we can bend the material and roll it in one sequence – it's saved us a fortune."
Industry 4.0
The ELECT 52 has brought White Cross Ring's shopfloor into the 21st Century courtesy of BLM's Visual Graphic Programming (VGP) software.
This industry 4.0 technology allows operators to view a computer-generated 3D rendering of the workpiece being machined prior to production, highlighting any problems, such as collisions, before work commences.
"Unless you've got vast years of experience, you can spend hours trying to work these things out on an older machine." Tom points out. "Having a visual of what you're going to bend beforehand is really helpful."
VGP also allows for clients STEP or IGES files to be directly imported. From these, the software generates a simulation for bending the part and works out the necessary settings. "Some small tweaks may be required, but it takes a lot of the legwork out of the job," Tom says. "You can't buy the experience we have on the shopfloor – some of these lads have been working here 30 years. But on new jobs, it's probably up to 50% quicker to set up."
"The younger workforce seems to adapt better to this technology. It makes life easier because the changeover and running of the machine is a lot simpler."
Working smarter
This smart programming, which stores corrections and data from each new job, means the ELECT 52 is constantly learning, improving its accuracy and repertoire to make for faster, more efficient working.
"Once we've stored a job, then all those pressure settings and intricate bits you do by hand on an older machine are all in the computer. The more you use it, the more it learns."
Aftermarket tooling
Tooling options on the ELECT 52 are limitless thanks to BLM's Tool Designer, an online digital platform that automatically creates and supplies bespoke electronic tooling drawings on demand. These can then be used to generate accurate customer quotes for the cost of the tooling prior to manufacture, and then launch production of the required tools once a customer has confirmed the job.
"There's a constant investment in tooling," says Tom. "It can be expensive, but with the BLM online Tool Designer software, you can get all the tooling you need."
One of the many advantages of running several BLM machines is fully interchangeable tooling which is vital to White Cross as they have a vast BLM bend tooling library.
Future proof
A true family business, White Cross Ring is now in its third generation, with Tom's vison firmly fixed on the future.
"The hope for this machine is it continues to get high quantity work out the door and we get the level of skill on the shopfloor to use it across the board," he says. "The key is we can now do higher cycle jobs to compete with higher volume customers, because the cycle time's a lot quicker."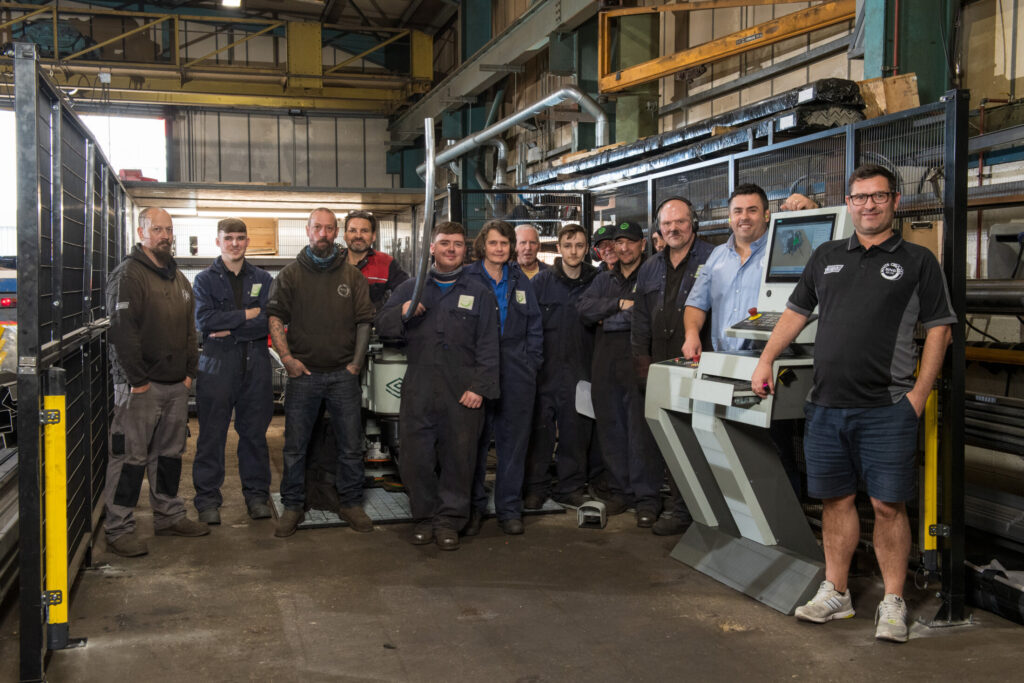 "The ELECT 52 is long-term investment. We want to invest in our infrastructure but, equally, the lads, to make sure they've got job security and to secure the future [of the business] for the next 20-40 years."
Tom confirms that White Cross Ring's next investment will be a ring rolling machine, to replace the 1978 model that's finally begun to struggle. "I was gobsmacked when we got the serial number off it!" he laughs.
"But it just shows that if machinery is well maintained it should last a long time. And that's something we're trying to push now, year on year, is looking for that next investment."