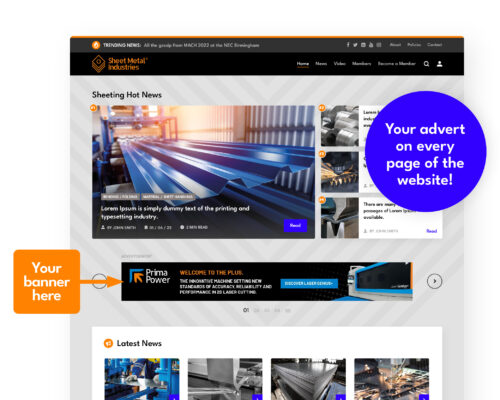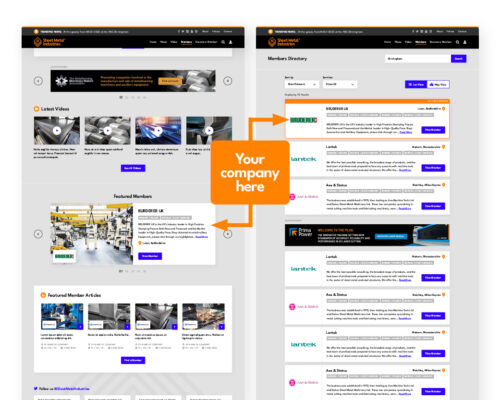 B – Featured Member
A feature within the 'Featured Members' rotating carousel section of the homepage that displays logo, featured image, specialisms, description and location with a link directly to your member profile page. Featured and highlighted within the 'Find Member' area and will score higher within the directory algorithm – essentially appearing at the top of all search results on the page.
Book Yours Now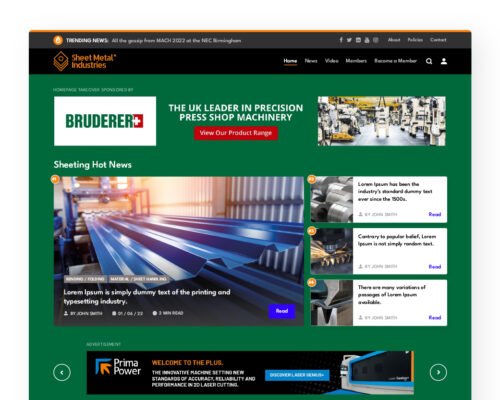 C – Homepage Takeover
Entire website homepage, news and video section colour scheme change of background. Includes a top banner on these 3 pages. Depending on brand colour will dictate if rest of website displays 'light' or 'dark' version. Some colours may not be available if colour contrasts are too poor and are not up to WCAG 2.1 A-class Standards.
Book Yours Now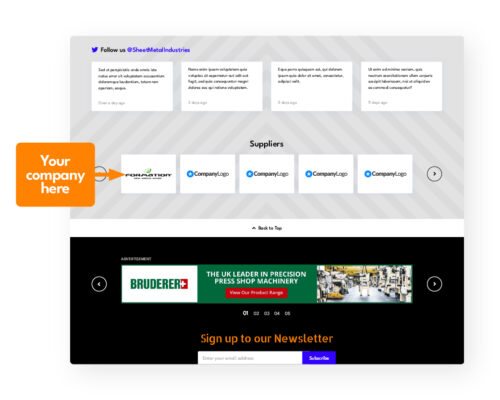 D – Supplier Logo Homepage Featured
Your supplier logo featured on the homepage rotating carousel.
Book Yours Now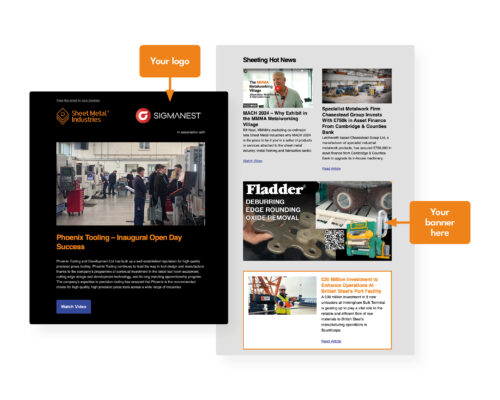 E – Editor's Monthly E-Newsletter
Advertising: Clickable banner slot on the sheetmetalindustries.com newsletter to re-enforce your brand image amongst the dedicated sectors of sheet metal, metal forming and fabrication. The newsletter is an informed and informative blend of all the latest industry news, features events and videos, served directly to readers' inboxes. Delivered 12 times a year.
Artwork specification: 560 x 300 px. Minimum font size: 18pt
In Association with: Your clickable company logo alongside the Sheet Metal Industries logo, heading the newsletter and reinforcing your brand.
Artwork specification: 250 x 60 px. Minimum font size: 18pt
Book Yours Now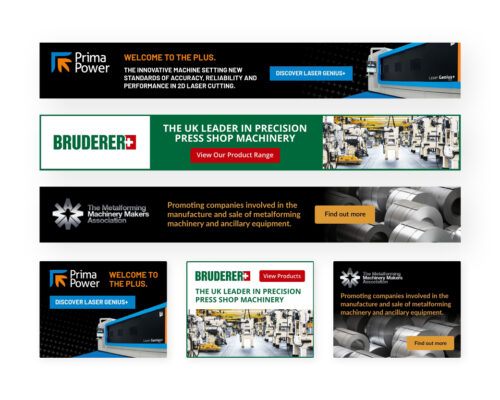 Require Banner Design Help?
If you want to advertise in a professional manner, we also offer a graphic design service!
We can design your desktop and mobile optimised banner at a one-off cost.
More Information
Code
Description
Banner Size & Details
A
Sitewide Website Banner Adverts
Desktop 1280w x 170h px
Mobile 370w x 280h px
B
Featured Member
n/a
C
Homepage Takeover
Desktop 1280w x 170h px
Mobile 370w x 280h px
Please supply HEX code or RGB values for brand colour
D
Supplier Logo Homepage Featured
n/a
E
Editor's Monthly Newsletter
560 x 300 px. Minimum font size: 18pt
E
In Association With
250 x 60 px. Minimum font size 18pt
n/a
Banner Design Help
One-off cost