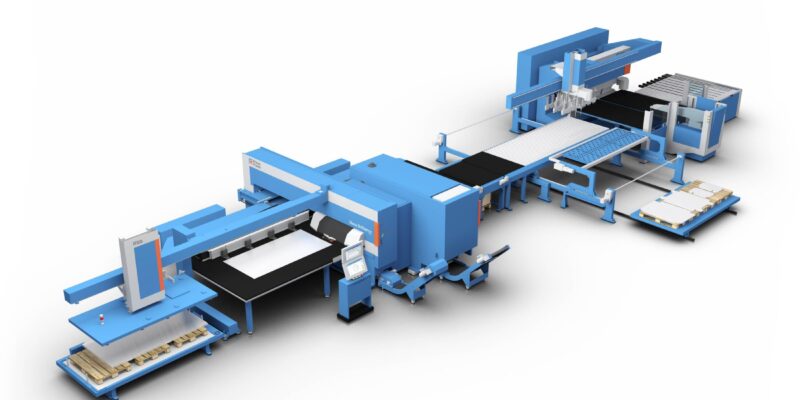 The presence of Prima Power at the 2022 EuroBLECH exhibition fits perfectly with the motto for the 26th edition of the international fair, "Your gateway to a smarter future". Prima Power also invites all visitors to make a journey towards the future of manufacturing, starting from its 1,400 sqm stand (#146 in hall 12), where its latest automated, integrated and digitalized sheet metal fabrication solutions are showcased.
Automation and Digitalization are on the rise in all industries and in companies of any size. A growing number of sheet metal manufacturers are embracing these trends to increase productivity, reduce lead times, enhance part accuracy and quality, cut waste, and improve ergonomics and safety for employees. The upsides of automated and smart production are key to tackling the main challenges in manufacturing industry – skilled labour shortages, high-quality standards, material costs, product delivery, efficiency and sustainability. Of course, solutions must be chosen according to the specific needs of each company and should be flexible enough to keep pace with the growth of the business and ever-changing market demands. Prima Power, with its wide range of modular and flexible technologies, automation, software and its deep-rooted experience, can provide the right solution for the most diverse production and investment needs.
The highly automated manufacturing line exhibited at EuroBLECH is the PSBB, compact Flexible Manufacturing System, which integrates punching, shearing, buffering and bending processes in a single solution. This comes with the new, efficient Shear Brilliance® accompanied by the latest version of the EBe panel bender. Leveraging decades of experience in FMS technology, the PSBB line automatically processes blank sheets into ready-bent, high-quality components. It offers high productivity, accuracy and efficiency utilizing servo-electric technology for punching, shearing and bending, with automatic flexible material flow and sophisticated software. The PSBB line is optimal for the production of square parts and panels and can therefore be used in sectors such as HVAC, door, and elevator panel manufacturing.
The new Shear Brilliance, combined punching and shearing system that is part of the line is based on the latest composite materials, servo-electric technology and linear drives to achieve truly impressive performance that translates into the highest level of productivity on the market for flexible manufacturing. The advantages of modern servo-electric technology are low energy consumption and low maintenance requirements, in addition to excellent accuracy and versatility. Modularity enables fast, high-precision manufacturing of components that also require forming, bending, tapping and marking in a single, flexible cell and a fully automatic process. By its very nature, the integrated punching-shearing concept can bring savings from 10% to 20% in raw material consumption. Even greater savings can be achieved using the optional cut-to-length line.
Included in the PSBB line exhibited at the show is the EBe2720, a fully automatic, servo-electric panel bender that maximizes system throughput. Thanks to its integration in the FM system, the machine boosts productivity by reducing the whole fabrication process into a single stage, taking advantage of a unique, compact layout. The EBe is equipped with a PCD picking and centring device and a multifunctional table for the positioning and the centring of parts, which allows flow from other machines in line; furthermore, the BTD bend and turning device automatically flips the sheet blanks in masked time, before the bending process.
For flexible automatic laser cutting, Prima Power is showing the Laser Genius+ with a Combo Tower Laser storage system and PSR 2D picking and stacking robot.  The high dynamics (trajectory speed of 180 m/min, acceleration of 2.8 g) and precision of this machine allow short cycle times and high cutting quality. With three size formats available – 1530, 2040 and 2060, and a wide range of laser power options, the demands of every application can be satisfied. The Laser Genius+ is a "plug & play" machine with quick installation times and a symmetrical and reversible layout that increases ergonomics and ease of integration into any factory. The machine features two, 24-inch, full HD monitors and a 4K video camera as standard, integrated software modules that simplify processes, new sensors and artificial intelligence algorithms for advanced monitoring and process control. The Laser Genius+ can also be connected to a wide range of Prima Power automation systems. At EuroBLECH, the machine is configured with the PSR 2D smart and flexible picking and stacking robot, which provides high stacking accuracy and minimal spacing between stacks, allowing optimal usage of the stacking area, automatically. Thanks to the modular structure of the system and Prima Power's wide product portfolio, the PSR 2D can be connected directly to the Night Train FMS storage solution and to an automatic panel bender, creating an automated production line from raw sheet metal to cut and bent finished products. The Combo Tower Laser, a compact and flexible storage system also installed with the machine makes different materials available whenever needed and can additionally serve as intermediate storage for ready cut components and skeletons.
At EuroBLECH, Prima Power will also present the eP Genius 1030, flexible automated bending solution, which integrates an eP-1030 servo-electric press brake with an automatic tool storage unit. In this machine, the high dynamics, precision, and reliability of Prima Power's servo-electric technology combine with the advantages of an automatic tool change system. The result is a productive and flexible bending solution, particularly suitable for smaller batches where it is possible to automate the machine set-up, and shorten cycle times to help the customer achieve higher levels of market competitiveness. Some important features of the eP-1030 are the 105 ton capacity, 3,060mm bending length, automatic CNC crowning, 5-axis backgauge and the IRIS Plus angle control system on CNC controlled motorized arms. The tool magazine houses 32 metres of tools on 8 tool holders that move on 3 axes. A turret also allows the tools to be rotated, increasing the machine flexibility. The latest generation user interface allows intuitive programming, both on the machine and off-line, as well as automatic management of the machine set-up.
Factories are becoming increasingly data-driven, to optimize processes, improve time-to-market, control the full value chain, and improve the customer experience. At EuroBLECH, Prima Power will show its full range of solutions for smart manufacturing, allowing production management at any level, with advanced monitoring, diagnostics and enhanced machine programming. In addition to the well known Prima Power software solutions, several new products will be launched at EuroBLECH, for increased programming efficiency and user-friendliness, simplified machine monitoring and improved control of manufacturing costs.