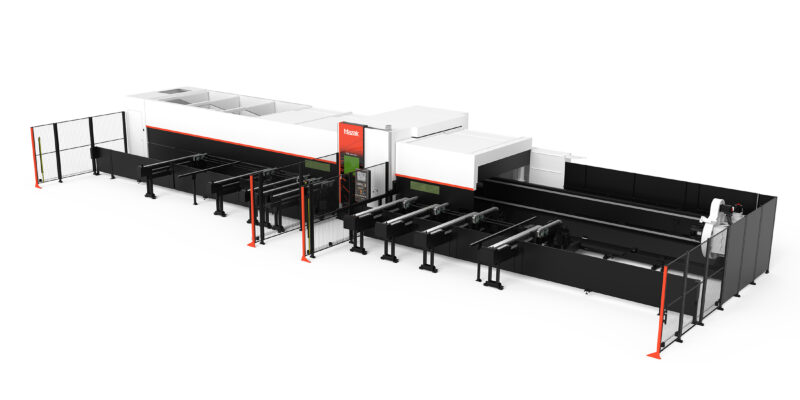 Laser-cutting beyond the limits of efficiency and sustainability
Yamazaki Mazak is set to unveil two new game-changing laser processing machines for the cutting of tube, pipe and sheet metal at EuroBLECH 2022: the FG-400 NEO and OPTIPLEX 3015 NEO 15 kW.
FG-400 NEO
The FG-400 NEO can streamline production and improve performance by running multiple processes in one machine including 3D cutting, tapping, drilling, chamfering and flow-drilling.
The system is ideally suited for large-size tubes and pipes, including round, square, and rectangular cross-sections; as well as H, I, and L beams. Thanks to the combination of a brand-new 3D laser head with A-axis, B-axis and fiber laser technology, it can facilitate the stable machining of complex shapes and highly reflective materials, such as copper and brass. The 4-chucks system provides additional stability by preventing material distortion during processing.
To complement the machine, Mazak has developed a set of quality-of-life functions including part nesting, tool simulation, and a tool path monitor to speed up set-up times and enable continuous production.
OPTIPLEX 3015 NEO 15 kW
The OPTIPLEX 3015 NEO 15 kW is the newest entry in the OPTIPLEX 2D laser cutting machine series. Thanks to a winning combination of MAZATROL SmoothLx CNC Control, MCT3 cutting-head, and a wealth of customization options, the machine delivers highly accurate and precise sheet metal processing.
The model benefits from a high degree of automated features to deliver faster set-up times (up to 95% compared to standard laser machines), including automatic nozzle changing, as well as automatic focus detection and positioning to improve ease of use and optimize piercing performance.
The large front and side access doors improve accessibility to the working area, easing loading and unloading operations. The Nozzle Auto Centering Camera displays the nozzle location on the CNC screen, allowing the operator to make adjustments on the torch, while the nesting feature automatically determines how to arrange the parts for optimal cutting on residual materials.
Automation
The OPTIPLEX 3015 NEO 15 kW displayed at EuroBLECH will be equipped with the CST 3015 automation system featuring single tower mounted above the laser pallet changer. This CST 3015 automation system has 8 separate pallets each with a load capacity of up to 3,000 kg and deploys a suction-based system for the loading of raw material and a dual supported fork set for the unloading of processed workpieces.
Designed with environmental sustainability in mind
As a world-leading manufacturer of machine tools and laser processing machines, Mazak is strongly committed to reducing its environmental footprint and achieving carbon neutrality by 2030, as highlighted by the company's 'Go Green' initiative.
Both machines on display at EuroBLECH 2022 leverage Mazak's revolutionary Laser Beam Shaping and Fiber technologies. The cutting quality is achieved by controlling the power density concentration of the laser beam, while a wide range of different materials and thicknesses can be accommodated by adjusting the beam's diameter and shape.
The Fiber technology can deliver significant cost reductions and energy savings (up to 60% compared to previous models), while providing unsurpassed cutting speed and quality for both thick and thin materials.
Mazak will showcase its latest innovations at the EuroBLECH exhibition in Hannover (Germany) at STAND D26/HALL 11 from October 25 to 28.