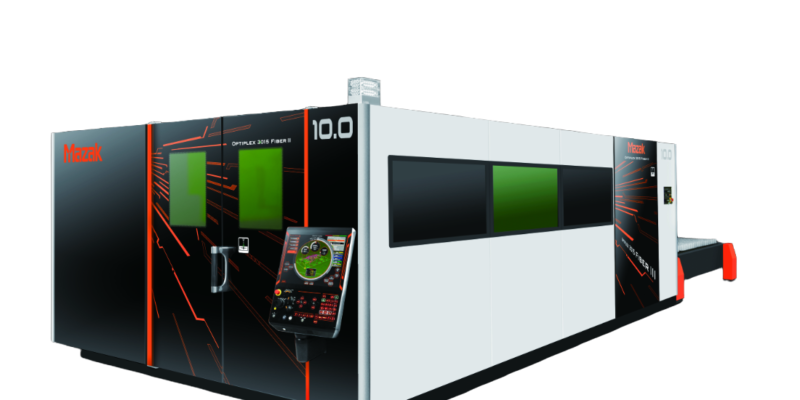 Yamazaki Mazak welcomed over 500 attendees to its European Technology Centre in Worcester in December as part of its annual Open House.
Themed 'Discovery Week', the event aimed to address some of the key production challenges facing UK manufacturers and subcontractors, and was supported by over 25 dedicated partners in the areas of tooling, tool management, swarf management, CAD/CAM and finance.
Among the highlights on display was Mazak's latest vertical machining center, the VCN-700, which is designed and manufactured in the UK specifically for machine users requiring high-performance machining. The VCN range has been developed to significantly improve productivity rates for manufacturers undertaking everything from heavy-duty cutting through to high-speed machining.
The event, which started with a press day on the Monday, featured live demonstrations with the VCN-700, along with the VARIAXIS i-300 AWC that offers an expandable high-capacity tool magazine for high-mix, low-volume applications. In addition, the UK-designed and built CV5-500 was displayed with an MA robot for increased productivity, including lights-out and unmanned machining.
Laser users were able to see in live cutting action the OPTIPLEX 3015 FIBER III 10.kW laser processing machine, equipped with a TEKMAG automated sheet metal loading system. Specifically, the ultra-high-speed cutting of medium thickness material and the ability to cut the finest widths and most difficult reflective materials. The 10.0 kW 3015 FIBER III model that was displayed at Discovery Week can also process workpieces up to 1525 mm x 3000 mm.
Visitors to the event left with a variety of festive demonstration parts such as a miniature decorative sleigh with reindeers, and a tea light holder machined on the OPTIPLEX, and a coaster machined on the CV5-500 5-axis machining center.
It was the best supported partner event ever at a Mazak Open House, enabling visitors to discover a complete manufacturing solution under one roof, from tooling and metrology, through to software, automation, swarf management, CADCAM and coolant.
Discovery Week also served as a showcase for Mazak iCONNECT, the latest remote servicing solution that allows users to monitor their machine operations, perform remote diagnoses, access parts order history and more through the company's secure cloud service – ultimately delivering improved productivity and machine performance.
Alan Mucklow, Managing Director UK, Eire and National Distributors at Yamazaki Mazak, said: "We were delighted to welcome over 500 attendees to our European Technology Centre in Worcester for Discovery Week. Our annual Open House is key to ensuring that we remain connected to UK manufacturers and subcontractors, which has redoubled in importance given the emergence of new market challenges.
"With the launch of new technologies such as the VCN-700 and Mazak iCONNECT, we hope that we can help our customers address these challenges and seize new opportunities in 2023, and that UK manufacturing can continue along its upwards trajectory in the new year."