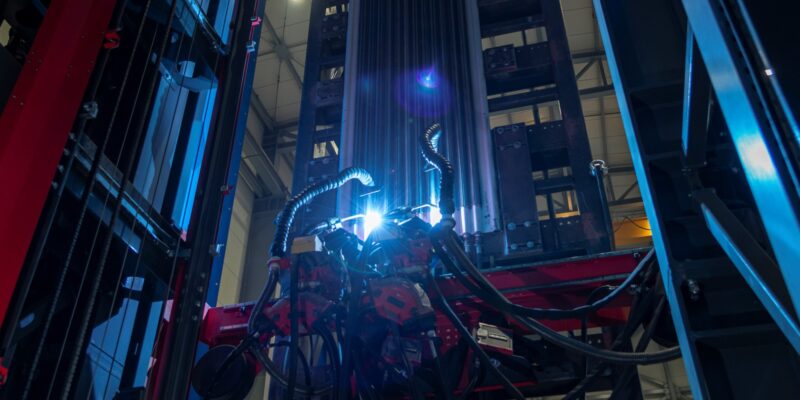 CMT CLADDING TOWER FOR FINNED WALLS
SHI FW Energia FAKOP (FAKOP) can look back over a century of history and tradition. Its origins trace back to 1880, when Wilhelm Fitzner and Konrad Gamper founded a steam boiler factory in the Polish city of Sosnowiec. Just two decades later, in 1900, the Polish boilermakers achieved true world success as "Grand Prix" winners at the Paris World Exhibition. Move forward to 2009 and FAKOP is once again in the spotlight with the world's largest fluidized bed boiler. Success with boilers and high-tech leadership require quality – and when it came to the weld cladding of the 12-meter-high finned walls used in waste incineration plants, they chose a solution from Fronius. More specifically, a tower-high CMT cladding system operated with two elevator platforms.
The large water-tube boilers used in commercial and industrial power generation use heating surfaces called finned walls made from tubes and flat iron. Due to the changing trends in fuels and the burning of increasingly difficult and aggressive fuels, it is necessary to develop additional anti-corrosion protection for the finned walls. Hardfacing is the most efficient way to protect the finned wall surfaces.
"To surface the finned tubes, we use a cladding tower from Fronius Welding Automation that is approximately 15 meters high," explains Arkadiusz Osuch, managing director of FAKOP. "It can accommodate two 12-meter-high and 1.6-meter-wide finned walls and is operated by two elevator platforms, each equipped with innovative CMT welding technology."
Iron in the weld metal diluted to less than 3%
Many challenges are associated with the process of overlay welding. The ratio of base material to applied alloy is crucial for the effectiveness of the corrosion protection. The aim is to keep the ratio as low as possible while ensuring good fusion between the base material and the protective layer. A lower base material content ratio means longer equipment service life.
Jaroslaw Olej, senior welding expert, confirms that "The mixing ratio is now regularly below 3%."
Before the management of FAKOP decided to purchase a mechanical CMT welding system, the finned walls were surfaced using other techniques.
In order to satisfy the high quality demands of their customers, FAKOP's welding technology production engineers pay attention to every detail during the pretreatment of finned walls. Once the surface pretreatment is complete, the finned walls move on to overlay welding, which takes place in dust- and rust-free conditions.
The welding process is crucial
When opting for the Fronius welding tower, a key factor was the use of CMT technology. Its advantage lies in the digital process control, which independently detects short circuits and supports droplet detachment by retracting the welding wire. This creates a back-and-forth motion that keeps the arc phase short and reduces heat input. The result is a material transfer that enables spatter-free cladding results with a particularly smooth surface, soft seam overlaps, and a consistent layer thickness.
"Nowadays, we find the majority of our customers require the CMT process," says Olej, adding "You can safely say it's established itself as the standard, and those who know how to use it properly enjoy good opportunities in the market."
Expertise comes up trumps
Welding expertise and experience are vital. For example, arc stability and the susceptibility to porosity largely depend on an equally optimal and constant wire speed.
"From the inner liner to the welding torch, we are dealing with an enormous wire length of around 15 meters. That's why it's difficult to keep the speed completely stable – you need a reliable wirefeeder, a series of tests, and sufficient expertise," says Piotr Ogórek, technology and development expert, explaining the importance of specialist knowledge in laying membrane walls. "A further criterion is the ideal position of the welding torch, because spatter will occur if the torch angle is set incorrectly," Ogórek adds.
The stick-out and associated arc length are other significant quality-determining factors which–together with constant wire speed–contribute to reducing porosity. With the help of Fronius, the specialists at FAKOP adapted the properties of their TPS/i CMT power sources to achieve optimum application results without pore formation by adjusting the stick-out accordingly.
High-tech welding tower with outstanding ease of use
Welding is performed with horizontal oscillation from top to bottom in the vertical-down position (PG). Both elevator platforms are equipped with CMT welding technology and have intuitive HMI system controls with touchscreen, an ArcView camera and monitor, two CMT welding torches, and a joystick for fine adjustment.
Since welding torch temperature has a major influence on the dilution rate, all welding torches are water-cooled. To further ensure that the dilution limit of 3% is never exceeded, precise regulation by the plant's cooling system is required.
One system optimization worth mentioning is the new fine adjustment joystick for the welding torch position. Originally it was necessary to manually move the torch into position using a slide rail. This made fine adjustment almost impossible and always required extreme dexterity. With the ArcView camera and joystick, fine adjustment can now be carried out quickly, easily, and with millimeter precision.
User safety is ensured by fume extractors on each welding torch and a dark-red tinted protective curtain that seals off both elevator platforms, and extends the full height of the system protecting welding operators from UV radiation.
"Another important feature of the Fronius system is the WeldCube welding data management software," concludes Osuch. "WeldCube records all process data during the overlay welding process and the information captured assists us with process management. We are highly satisfied with the Fronius overlay welding device and have decided to purchase another one."
Added bonus for the environment
FAKOP not only produces high-quality finned walls and water tube boilers, it also makes an important contribution to sustainable waste management with its products for waste incineration plants. According to the ISWA (International Solid Waste Association), around 7-10 billion tons of municipal waste are produced worldwide yearly. A large proportion of this waste ends up in landfill sites where it produces methane, which is 20 times more harmful than carbon dioxide as a greenhouse gas. Waste-to-energy plants are an effective alternative to landfill and help reduce greenhouse gas emissions while generating electricity and system heat, which assists in promoting the circular economy.