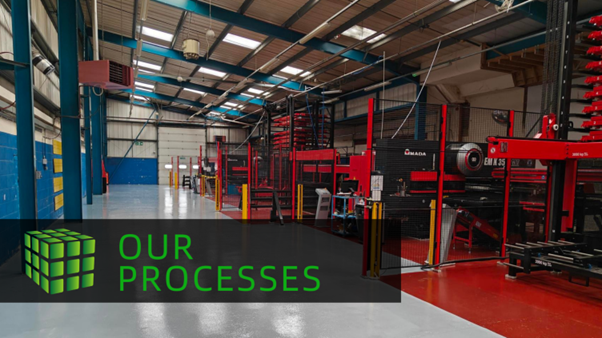 Engineered Fabrication Solutions Ltd (EFS) was founded by a group of engineers with over 25 years of experience in the design, manufacture and supply of metalwork components.
It's UK 60,000 square foot facility includes an extensive list of manufacturing and fabrication services, but what are they all and what do they do?
Design and Engineering
Offering the latest technology in computer-aided design (CAD) software, an experienced in-house design team work closely with customers offering value engineering and design input from project conception through volume production, ensuring product excellence from the beginning. 
In-house design and sheet metal engineers work with this latest software to deliver tailored and accurate solutions for successful assembly, quality products and durable lifecycles. 
CNC Laser and Punch Profiling
Our CNC laser cutting and punching metal capabilities provide a seamless process that combines the latest in steel fabrication technology. 4 Amada CNC punching machines with auto-loading and un-loading facilities offers unrivalled efficiency in a lights-out manufacturing environment. Integrated with 58 tooling stations able to provide a vast array of profiling and forming, supported by Amada Vipros 359 King machines. 
Our 3kw Mazak Fibre laser cutting machine ensures all profiling needs are met with ultimate precision for CAD-guided CNC cutting services. Offering a high-speed solution to profiling requirements whilst using powerful fibre laser technology allowing for profiling from 0.5 to 20mm.
CNC Bending, PEM Insertion and Power Press
Our CNC sheet metal bending and PEM insertion capabilities provide unrivalled efficiency. Our sheet metal folding process comprises 4 120T Amada press brakes alongside an HTC auto-tool-changing press brake. All programmed and fulfilled by our very own skilled CNC operatives who use the support of an ultramodern tooling library. There is no doubt that EFS has the capacity and capability to support a varied range of products with sheet metal bending and PEM fastener solutions.
Our 200T Power Press is used in the cutting and pressing of high-volume productionised metalwork components.
Our Haegar Insertion machines provide a quick cost-effective volume solution for the application of fasteners, supported by drilling and offline tapping machine operations.
Welding and Fabrication
Our in-house metal fabricators offer a range of welding capabilities for quality and durable solutions, including five dedicated MIG welding, TIG welding, spot welding and laser welding stations. Utilising robust fixturing and manual welding techniques, the EFS metal fabricators team of highly skilled welders who deliver on all levels of complexity, every time.
We have the ability to flex capacity to meet customer demand and a design and fabrication team is in place to support any fixture requirements should additional urgent project be required.
Powder Coating
The EFS powder coating process is streamlined for an efficient and quality finish every time, featuring our GEMA quick colour-change automated paint plant. The plant uses a unique environmentally friendly single stage pre-treatment process capable of achieving in-excess of 1000 hrs of anti-corrosion resistance salt spray. The GEMA plant is supported by an offline paint system allowing us to powder coat products that are too large for the automated lines – ensuring all products are finished to our high standards.
Assembly
Our expert assembly operatives are based in an expansive, purpose-built area and have a host of experience and knowledge from across a wide range of materials, applications and assemblies with the facility to offer full 'turn- key' solutions to meet customer requirements.
No job is too big or too small at EFS, with dedicated assembly lines and tools in our 60,000 square foot site – our commitment to quality and precision follows us right up to final assembly.
Quality
At EFS, we pride ourselves on the supply and manufacture of accredited quality products. Certified to ISO 9001, our dedicated QA team ensures all visual, dimensional, and packaging aspects are met and exceeded. Our team always strives to exceed varying customer specifications and customer expectations – from materials and finishes, right down to how we run our processes.
Storage and Delivery
Our warehousing operates out of a 60,000 square feet, purpose-built factory which is able to hold a sizeable variety of finished goods, customer inventory and steel stock. We have also secured transport networks across the UK in order to ensure sheet metal delivery is conducted in line with customer delivery requirements.