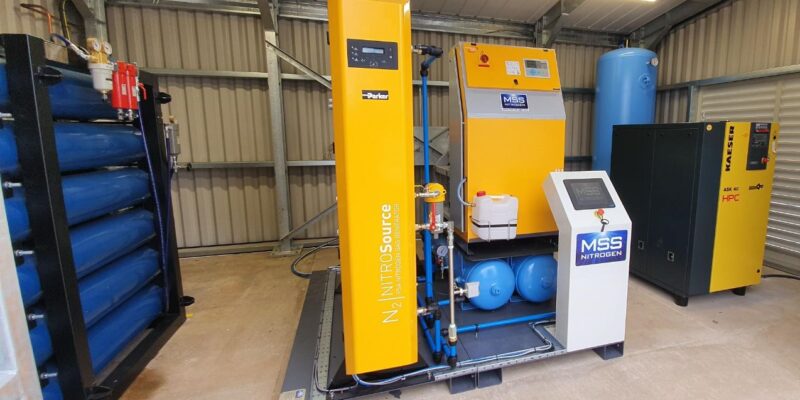 Cross Manufacturing gets the MSS Nitrogen treatment.
World-renowned sealing experts Cross Manufacturing in Devizes, Wiltshire have recently added a new MSS Nitrocube high pressure nitrogen generation system to their operation for use with their on-site heat treatment processes. Having historically used bulk gas, it was decided that on site nitrogen generation was a better solution for the increased gas volumes required and as part of the company's drive to reduce their carbon footprint.
Jason Bain, Facilities Manager at Cross, comments 'after exploring both bulk gas volume upgrades and nitrogen generation, we decided that generating our own gas here was a better option for us'
Jason continues; 'MSS provided us with a detailed and comprehensive analysis of our existing nitrogen costs together with a useful return on investment calculation that made it very simple for us to see how the costs of owning an on-site generation system would compare with our historical bulk gas supply and proposed upgrades.'
MSS Sales Director, Chris Smith commented 'this was a really interesting project as most of our work is for laser cutting so it was great to get involved in a different industry. Cross were very specific with their requirements which helped us size their system accurately, they were pretty demanding as they required a system that reliably produced super high purity of 10ppm (99.999%). At MSS we are very fortunate to have a standard pre-engineered product range that includes systems capable of this so we were confident of meeting the demands required.'
The system has been installed in a dedicated housing built specifically for the new nitrogen system. Chris comment further 'our standard Nitrocube system wasn't well suited so we used a bespoke skid mounted system that fits neatly into the space, as this is a relatively basic shelter care was taken to ensure efficient operation regardless of weather conditions'.
This special skid system still retains all the control, flow analysis and telemetry functions of our complete Nitrocube system.'
The bespoke Nitroskid 2 system supplied provides high pressure nitrogen at 20m3/hour flow and 99.999% purity and features 288m3 of storage at 300 bar pressure. All the latest generation MSS Nitrogen systems uses the highest quality components available today which combine to make each system super-efficient. Typically using 25-40% less energy to generate higher purity nitrogen than many other systems available. The new system also features MSS' unique touch screen control panel that allows remote system performance and status monitoring.
Jason comments further 'the MSS Nitroskid has now proven itself to be more economical than bundled gas cylinders and saves us a lot of valuable space on site. We now don't have to worry about running out of gas due to missed deliveries or paying in full for part deliveries as we now have our own dedicated supply which generates the right quality nitrogen only when we need it'
With over 1200 systems installed in the UK and US, MSS are global leaders in high pressure generation systems for laser & other applications. 20 years of experience manufacturing in this market now result in MSS equipment being considered as the most efficient and advanced nitrogen generation systems available today.