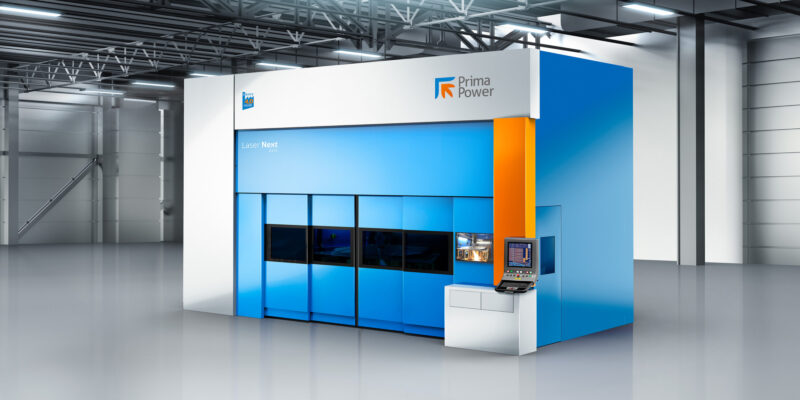 Chasestead Metalwork has unveiled its newest investment: a state-of-the-art Laser Next 2141 from manufacturer Prima Power. The Laser Next 2141 is the largest machine in Prima Power's 3D laser range, offering a flexible solution for laser cutting large metal parts.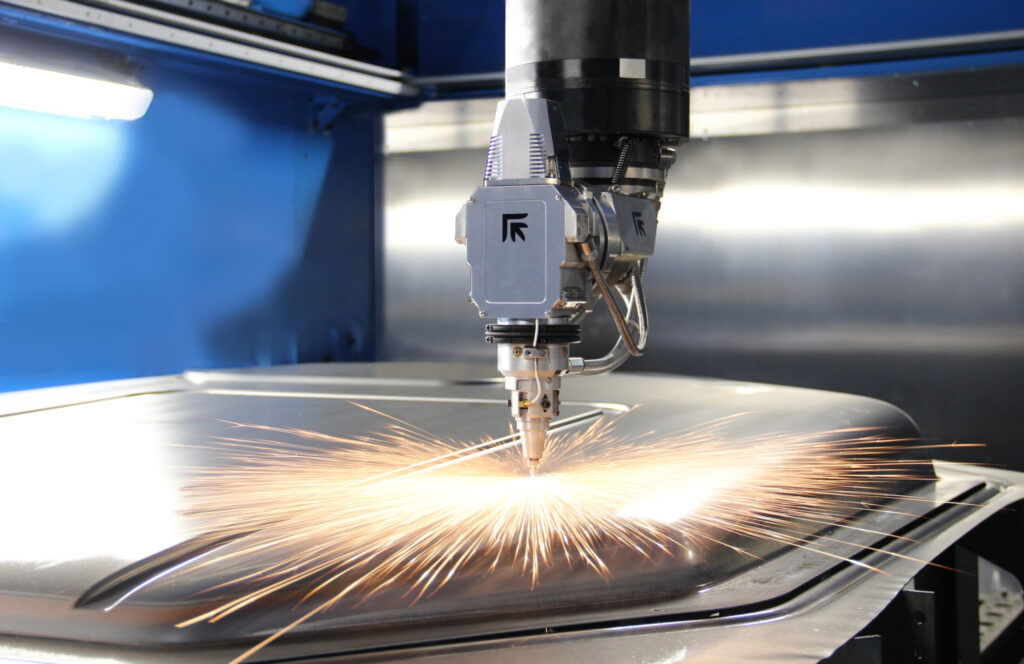 Flexible workspace
The new Laser Next 2141 at Chasestead is the largest Laser Next model to be installed in the UK by Prima Power. Its Tardis-like qualities see it house a 4,140 mm – Y: 2,100 mm – Z: 1,020 mm working envelope within a surprisingly compact 35msq footprint, thanks to the ancillaries included in the machine's frame.
Its multiple configuration possibilities include fixed tables, shuttles, a split cabin and a turn table. Chasestead has taken this customisation one step further with a specially commissioned table, joining the two workstations to create a space that's just over 4m x 2m wide. The company has also invested in a new building, complete with broadband, to accommodate the machine.
"We can do everything from very small bracketry right up to whole roof panels, body sides, and bonnets," says Justin Sedgwick, co-MD of Chasestead.
Latest fibre laser technology
The Laser Next 2141's laser power comes courtesy of a flexible optical fibre doped with ytterbium, which reduces the need for laser gases, mirrors, and additional moving parts.
The 4 kW laser beam is transferred via a passive fibre cable to the cutting head, delivering continuous high optical gain and micro precision with minimal thermal distortion. Its topline 3D and 2D capabilities will cut mild steel up to 16mm, and aluminium and stainless steel up to 12mm; it can also be equipped with welding capabilities.
In addition to its high precision and speed – Justin reports the Laser Next 2141 is at least three times faster than his previous 5-axis machine – the machine's maintenance is minimal.
With no backlash or wear, thanks to linear motors on the main axes and direct motors with optical scales on the focusing head, downtime is greatly reduced as well as delivering a dynamic range of movement, backed up by an anti-crash system.
This efficiency carries through to the machine's running, which uses two-thirds of the power required to operate traditional cutting equipment, reducing production costs and environmental impact.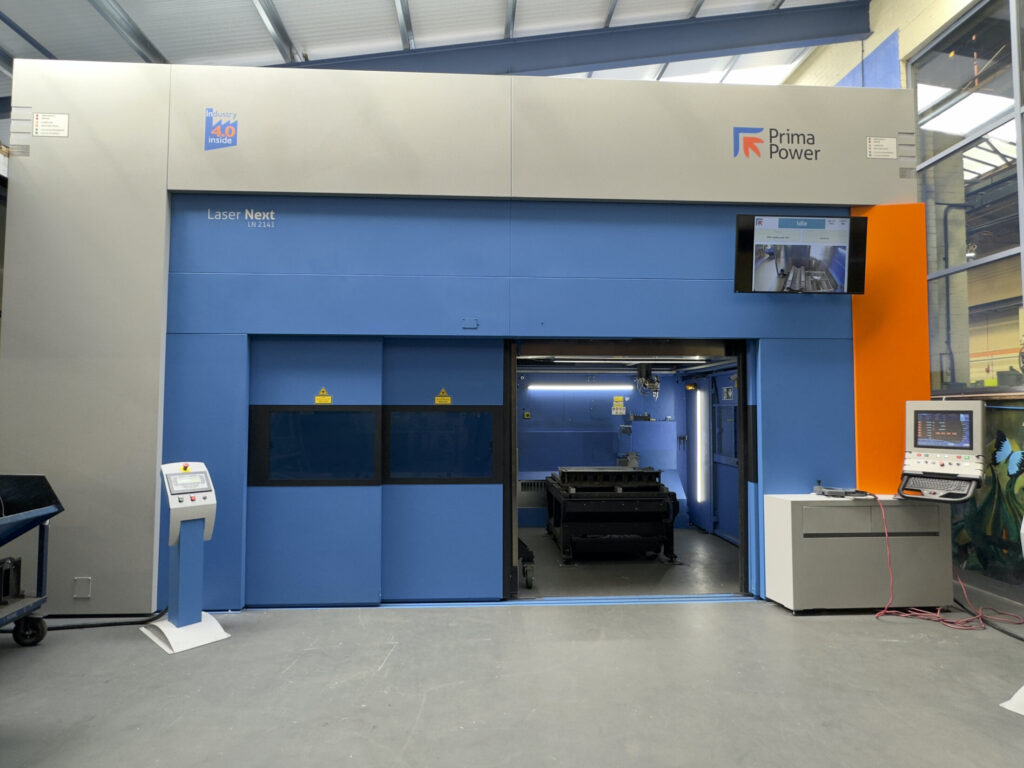 Staff training
Since the machine's installation, Prima Power has carried out intensive training with Chasestead operators to ensure effective, safe use of the Laser Next 2141, as Justin says:
"It's been a learning curve. The software is a lot different to what we're used to. But there's always someone available from Prima to talk to; they've been on site a lot during these early days."
Prima spent two weeks at Chasestead providing software training and a further two weeks' training technicians to use the machinery.
24/7 support
Prima Power's ongoing customer support and cover for the entire lifecycle of the machine was a crucial deciding factor for Chasestead; the Laser Next investment, including building the new wing to house the machine, represents a significant investment for the company.
This is delivered through a teleservice for remote diagnostics; a field service for on-the-ground repairs and maintenance visits; scheduled updates for the very latest Prima technology; and spare parts delivered next day.
"Having been bitten by that in the past, service and downtime were our main considerations," says Justin. "We wanted someone who would take on the project as one. Prima sold [the Laser Next] to us on their commitment to service. It's been a very good first experience working with them."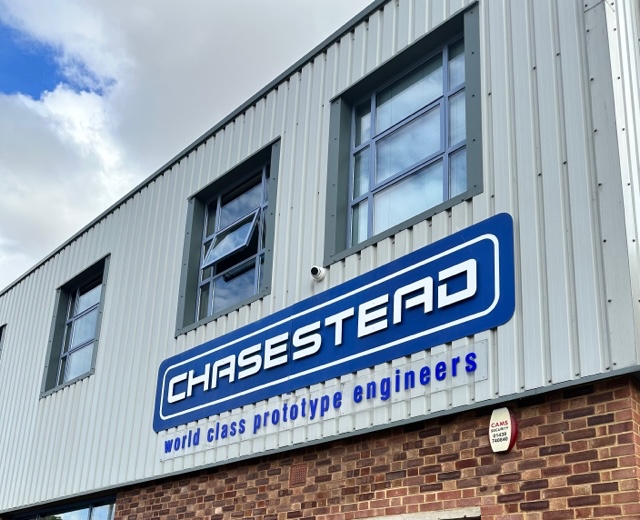 Speed and precision: delivering to clients
Chasestead has a varied mix of high-profile clients, from luxury automotive manufacturers to film studios. The Laser Next 2141 offers the perfect versatility for machining everything from high-performance vehicle parts to intergalactic weaponry, as Justin says:
"There's always plenty of work for the machine. We've done guns for Star Wars and we've just built the pit lane and props for the new Formula One film."
The Laser Next also has measuring capabilities, which reduces setup time. This increased efficiency has benefits for both Chasestead and its clients, as Justin explains:
"On the right day, we can develop a press tool or give them a component within two weeks; standard lead time would normally be four to six weeks. But now, we can really bring that forward where needed. In the world of rapid prototypes, this is at the cutting edge."
An agile future
Having cutting-edge technology at their disposal also has other benefits for Chasestead, which celebrates 60 years in the sheet metal industry this year. With its anniversary and the new Prima equipment, staff morale is at an all-time high.
"Investing in new machinery like the 2141 does a lot for staff retention. If you've got newer technology and your staff aren't fighting with some 300-year-old machine, it's always good for the business," says Justin.
"The youngsters have picked up the computer side of it well, and having skilled machinists around them to pass on the old-school ways really complements that. That's where the Prima drops in. It's what we need to keep Chasestead at the forefront of the prototype and low-volume business," he says.
Agility has been an important factor in Chasestead's sustained success, which began taking on marine sector clients in 2006, shortly before the automotive industry dipped in 2008. By embracing new technologies and investing in equipment like the Laser Next 2141, Chasestead is continuing in this vein.
What's next?
Despite the significant outlay of the Prima Power installation, Chasestead is already looking ahead to its next acquisition – a computerised order processing system – and doing more business with Prima in the future. "We look to work in partnership with our machine providers, and we see that going forward with Prima," says Justin. "I'm pleased with the relationship. I'd definitely recommend Prima Power, 100 percent."