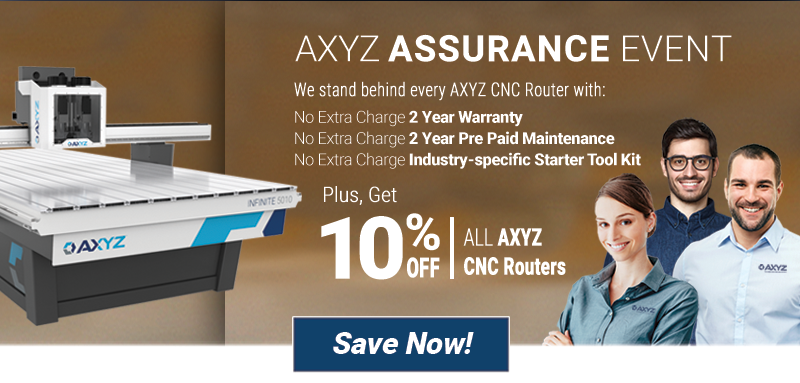 AXYZ are the leading global manufacturer of CNC router machines and knife systems we recognise the need for versatility when it comes to cutting systems. Our portfolio of routing machines consists of 5 different models: Innovator, Infinite, Trident, METALWORKER and PANELBuilder, all with their own unique options and versatility to cross over infinite markets. We are excited to announce our special offer that starts on the 11th of October and runs to the 30th November 2022:
The offer includes 10% off all standard AXYZ Routers (Innovator, Infinite, Trident, METALWORKER, PANELBuilder).
No extra charge 2 Year Warranty
No extra charge 2 Year Pre Paid Maintenance (Parts and Labour)
No extra charge industry specific starter Tool Kit
This fantastic offer is only available for a limited time don't delay!
For more information, visit
For a detailed look at AXYZ machines visit our website, but below is a quick snapshot of what is available:
THE INNOVATOR
INDUSTRIAL PRECISION. COMPACT DESIGN. FULL-SCALE CAPABILITY
The AXYZ Innovator, optimised for prototype, signs and graphics, woodworking shops and educational institutions, the Innovator is equipped with powerful integrated servo motors, an optional tool changer and standard helical rack. Choose from two standard sizes that fit the most common sheets sized for this market.
The INFINITE
THE MOST VERSATILE AND CUSTOMISABLE CNC ROUTER SYSTEM IN THE INDUSTRY
The Infinite router is a highly configurable CNC machine.  The Infinite Series is suitable for one-off, small batch production as well as high volume and high productivity applications, including point of purchase, sign making, Woodworking, Plastic Fabrication and so much more.
TRIDENT
THE MOST VERSATILE ROUTER-KNIFE HYBRID IN ITS CLASS
Processing a wide range of materials requires more than one cutting head. The Trident combines three different cutting technologies to provide maximum versatility by offering a choice of routing spindle and two knives, which can be either tangential, oscillating or a combination of both. Ideal for foam processing, graphics & print finishing, point of purchase & sign making.
METALWORKER
HIGH PERFORMANCE CNC ROUTER
Manufacturers looking to process non-ferrous metals in low to high volume manufacturing environments will benefit from a standard list of features that make METALWORKER CNC Router among the leading machines in the market specifically engineered for high precision part production in nested-based CNC operations, such as metal fabrication, aluminium & metal composites.
PANELBuilder
THE WORLD'S LEADING PANEL FABRICATION SYSTEM
The PANELBuilder system is the most sophisticated, all-in-one solution on the market. Combining advanced, easy-to-use software with custom machine design processes all types of cladding materials faster, more consistently and at a lower cost than ever before. With its dedicated CAD/CAM software for automated panel fabrication, we are confident that it is the world's leading panel fabrication system.
For more information, contact us today or visit our website.
Tel: 01952 291600 Email