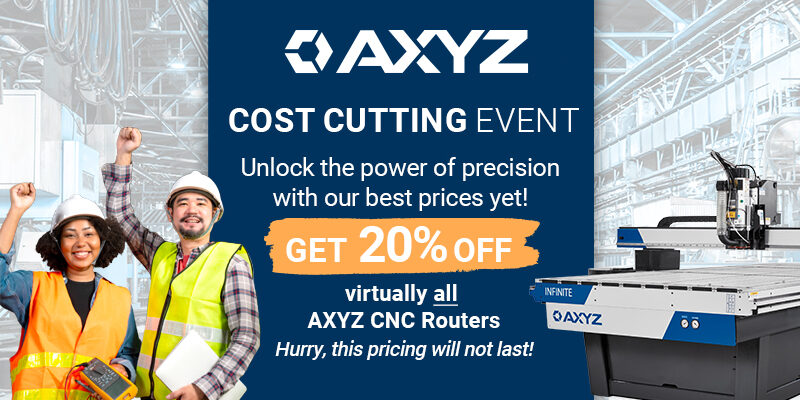 Leading global manufacturer of CNC router machines and knife systems, AXYZ, announces its Customer Cost Cutting offer of 20% off the purchase of virtually all AXYZ CNC Routers, until April 19, 2023. AXYZ is dedicated to providing their customers with versatile and precise cutting systems, and this offer will allow more businesses to access AXYZ's top-quality routers.
The TRIDENT – Ready for Any Job
The TRIDENT is a standard 3-device configuration consisting of a spindle, tangential knife, and oscillating knife. This setup provides the right cutting tools to process virtually any material with precision and speed, making it perfect for any business looking for high-performance cutting systems.
PANELBUILDER – The Global Leader in Cladding Production
INFINITE – Innovative Features Maximise Productivity
Designed on a modular platform, the machine can be configured to cut materials in all sizes, from insulation foam to cast plate aluminium. The choice of cutting head including knives, spindles, or drills opens the machine to many applications.
The PANELBUILDER technology is perfect for processing all the most popular cladding materials, including Aluminium, ACM, MCM, HPL, and Fiber Cement. This system has proven to be a global leader in cladding production, thanks to its top-quality cutting tools and precision.
Contact Us
For businesses looking to take advantage of this offer and get their hands on the TRIDENT, INFINITE or PANELBUILDER Router, contact AXYZ Sales by completing the online contact form or call 01952 291600. For more details on the promotion, please see: https://www.axyz.com/cut-costing-event/
To browse a variety of Router options, parts, and accessories, visit CNCShop.com. AXYZ is excited to help more businesses unlock the power of precision and take their production capabilities to the next level with AXYZ Routers.
For more information on the AXYZ range of routers:
www.axyz.com
Tel: 01952 291600
Email: [email protected]