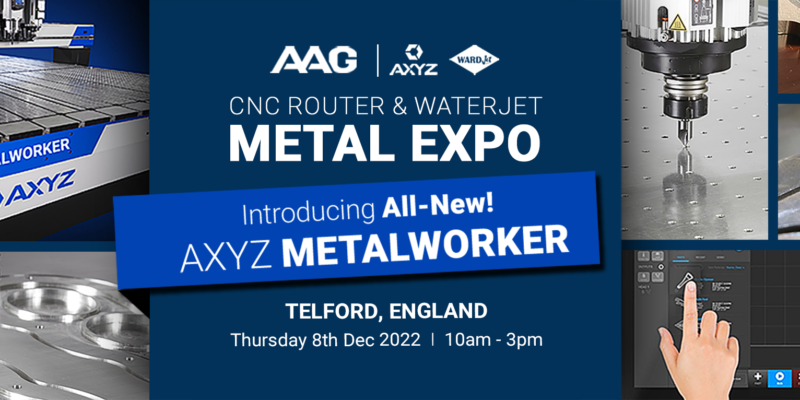 AAG is delighted to announce its next Telford Expo event, taking place on Thursday 8th of December at the UK head office. This one day event will showcase for the first time in the UK, the AXYZ METALWORKER CNC Router, specifically engineered for high precision part production in nested-based CNC operations. The METALWORKER was designed exclusively for end users looking to process small to large-sized sheets of material including aluminium, copper, zinc, metal composite and more. The METALWORKER is the ideal machine for metal fabricators who require a top of the range CNC router, designed to maximise quality, speed and precision, unattainable with many other machines. Operators will benefit from standard features that include high performance servo motors and helical drive systems, an industrial 22" touch screen that powers AAG MOVE™ CNC control software and more.
All these features will be demonstrated and visitors will get the opportunity to see:
Aluminium Fabrication with AXYZ METALWORKER
• Programming Parts with Fusion 360
• Overview and Operation of MOVE Control System
• Loading and Securing Aluminium on the AXYZ METALWORKER
• Processing Aluminium components
The AXYZ METALWORKER is able to maximise quality and speed whilst minimising vibrations generated through the cutting process. METALWORKER is configured with high performance components including:
Large single piece, all-welded steel frame and gantry that provides the rigidity to sustain large cutting forces
Direct drive high performance rack and pinion system, sized large enough to drive through the toughest materials whilst providing high acceleration and point to point speeds
Performance CNC servo motors with built-in encoders offering high positional control and optimised motion planning
A highly intuitive CNC control system powered by AAG MOVE ™
Visitors will also get the opportunity to see the incredible range of WARDJet precision, waterjet technology, all working under the same roof, cutting a wide variety of different materials and substrates.
For more information on The METALWORKER https://www.axyz.co.uk/product/metalworker/
To register for the event:
https://www.eventcreate.com/e/metalworker-expo