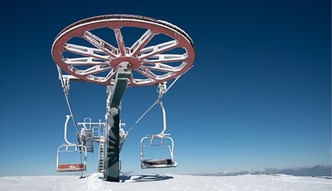 Bull wheel profiles rolled in Skinningrove are once again destined for the snow-capped mountains of the Alps where they'll help skiers make the most of the slopes.
The recent order for the specialist profile comes on the back of developments made by our Special Profiles business in 2017 when we developed the bespoke profile for ski-lift systems. The profiles are used to manufacture bull wheels, which play an integral and vital part in the safe operation of ski-lifts.
David Waine, Commercial Director for Special Profiles, said: "The bull wheels are situated at the end of each terminal. They act as a feed and braking system for the steel rope and usually measure between 3.6m and 7.3m in diameter.
"This is the first significant order we've had for bull wheel profiles for a while as customers had stocked up on their requirements in the lead up to Brexit. This order is very positive news for the business and we now expect to see regular orders for this profile going forward."
The profiles for this order will be supplied to a French fabricator in May and June where they'll be bent into the required shape. Then the profiles will be welded onto the final bull wheel structure. Prior to the development of this new profile, channel sections were welded together to form the bull wheel using 3 different strips of heavy plate – but this fabrication process was time consuming and expensive.
Dave Ashton, Sales Manager, said: "What we offer to the market is unique. Our short roll change times enable us to offer smaller rolling quantities, which is perfect for customers who are looking for highly-specialised custom steel sections in relatively low volumes."