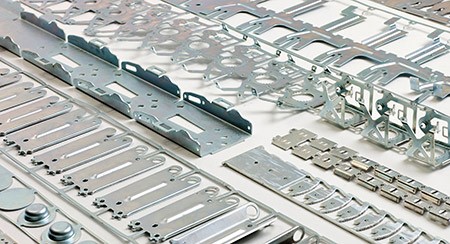 Progression Tools are used in automated coil-fed presses; they bend, cut and manipulate the material into its final required shape – Paragon Toolmaking Ltd helps explain.
Progression Press Tool are different from 'Press Tools' because the material is worked through several stages as it passes through the tool, rather than a single stage in a standard press tool.
During each stage, the multi-action tool gradually alters and shapes the components step-by-step until the final part is achieved.
This precision manufacturing process can be used for many different components and with a wide variety of materials.
The fact each stage is carried out with one tool means parts can be made efficiently with less waste and for a lower cost.
How do Progression Tools work?
Progression Press Tools typically use coils of sheet metal (copper, brass, aluminium etc), which are fed into the tool either manually or through an automatic feeder.
During every 'stroke' of the press, the material moves on to the next forming stage. This is repeated until every stage is complete, resulting in the finished component.
Usually, the component remains firmly in place until it is 'released' from the remaining scrap 'frame' and transferred out of the press.
For maximum precision and accuracy, pick-up 'pins' known as pilots are used to locate the coil to ensure that the material is always shaped in exactly the same way.
What are the benefits of Progression Tools?
Fast: Progression Tools can create a lot of parts in a short space of time.
Reliable: You won't suffer from many failed parts or a drop off in quality.
Save time: Perform multiple operations without too much intervention.
Minimise waste: The majority of the sheet metal material is used.
Accurate: Create highly-complex shapes or parts in one operation.
Consistent: Perfectly suited to lengthy production runs.
How much do Progression Tools cost?
Designing and making a Progression Press Tool is more expensive than manufacturing individual press tools.
However, the speed and efficiency provided during the long-term lifecycle of a Progression Press Tool means you'll quickly achieve a return on your initial investment.
At Paragon Toolmaking, our experienced engineers listen to your requirements before providing a tailored tooling solution. Should you need guidance during the initial tooling design stage, we can advise how to achieve each critical task without impacting on quality or reliability. Experts at Paragon can help you make critical decisions about your product design to ensure that it can be manufacture economically within a progression tool.
From concept and design right through to manufacture, Paragon's in-house industry specialists will take care of it all. Even for highly-specialist components.
Using CAD software and simulation technology and harnessing years of manufacturing experience to make tools which guarantee excellence and reliability.