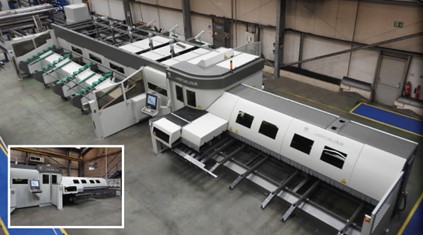 WEC are delighted to announce its investment in a brand new BLM Adige LT8.20 Fibre Tube Laser.
The new BLM Adige LT8.20 Fibre Tube Laser is replacing the older LT8 CO2 machine which will allow the tube cutting cell to significantly increase in capacity, allowing us to further reduce lead times for our customers and retain our competitive edge.
The new machine can cut round, square, rectangle, special sections and open profiles of up to 240mm diameter and 12mm thickness in mild steel and galvanised steel, 8mm thickness in stainless steel, aluminium and brass, and 5mm thickness in copper. Maximum component length capability is 6.5 metre with a maximum weight per tube of 40kg/metre.
This is the third LT8 fibre tube laser investment over the past three years which complements our 23 flatbed lasers and strengthens our position as one of the largest laser cutting operations in the UK.
To read about our full list of Laser Cutting capabilities, please visit our Laser Cutting Services page.