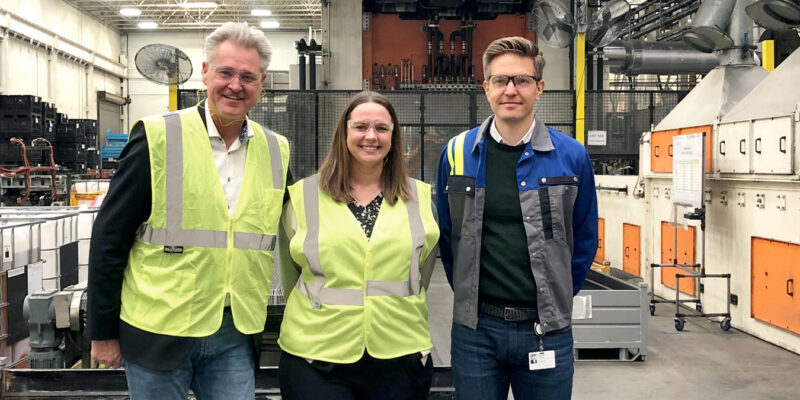 To secure their production capacity and minimize the risk of unplanned downtime of their press-hardening lines, voestalpine in Cartersville, Georgia in the US chose AP&T's extensive service agreement. It is an investment in security that has proven to be of great value.
For voestalpine in Cartersville, time is of the essence. Here, they make structural parts for some of the world's chief OEMs whose production relies on having a constant flow of parts and components. Unplanned downtime in any part of the delivery chain can have dire consequences.
"We bear great responsibility towards our customers. If something goes wrong on our end, it causes problems for them too. About a year ago, we were experiencing a lot of pressure in our operations. Production was pretty much running around the clock without pause and we were manufacturing enormous volumes. To suddenly have operational issues when you're in a situation like that could be extremely costly for us and our customers. To minimize that risk, we decided to enter a service agreement with AP&T," says Fredrik Stålberg, Managing Director and CTO of voestalpine in Cartersville.
The agreement covers two press-hardening lines from AP&T that have been in operation since 2017 and that are critical to the facility's production capacity.
To ensure high machine availability, voestalpine originally decided to enter a basic service agreement for the two lines. But they soon discovered the value of having a more comprehensive setup.
"We had very good discussions and went through their needs and conditions in detail, after which, we put together a proposal for a significantly more extensive service commitment," says Magnus Svenningsson, Director of Aftermarket Sales at AP&T.
The agreement signed in the spring of 2022 includes regular preventative maintenance, 24/7 online support and on-site assistance with priority response time, all at a fixed monthly cost.
"It's working out perfectly. We now have access to quick, qualified support, even in the evenings and on weekends, which we benefited greatly from on a few occasions. Though most problems can be resolved remotely, it's nice to know that an AP&T technician can come out at short notice if needed," says Stålberg.
Tobias Kronstedt, Aftermarket Service Manager in AP&T in the US, also has a positive view of the new setup.
"With this new agreement, we can provide Voestalpine with exactly the support they need to secure production. Our collaboration has come along nicely," he says.
For the future, Voestalpine is considering taking advantage of more aspects of AP&T's service offering.
"We're currently in discussions with AP&T about designing an agreement to guarantee our uptime. For instance, this could mean handing over stocking spare machine parts to AP&T and having them guarantee that we will have the parts within a certain amount of time. This could free up warehouse space and reduce tied-up capital, which we naturally see as being very advantageous," says Stålberg.