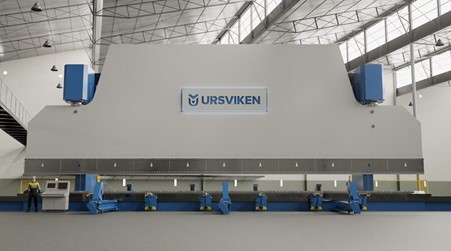 Ursviken are proud to announce the successful sale of the largest press brake ever built in the industry. This achievement marks a significant milestone in our commitment to pushing the boundaries of technological innovation and meeting the evolving needs of our customers.
The press brake showcases our dedication to delivering cutting-edge solutions that redefine the capabilities of the metal fabrication industry. With a bending force of 5 000 tons (5,500 US Tons), it can effortlessly handle the most demanding bending tasks with ease. A bending length of 22,2 meters (73 feet) offers unparalleled versatility and the ability to handle large-scale workpieces with utmost precision and efficiency.
The advanced features of the machine highlight our pursuit to be the best in industry. The press brake is equipped with state-of-the-art automation technologies that significantly enhance productivity, precision, and ease of operation. Automatic upper tool changes, variable die tooling, and fully programmable front and back gauges are just a few examples of the cutting-edge features that contribute to the machine's exceptional performance.
"We are proud to have achieved this milestone in our company's history," said Nicklas Jakobsson, CEO at Ursviken Technology. "The sale of the largest press brake ever built showcases our dedication to providing our customers with the most advanced and innovative solutions available in the market."