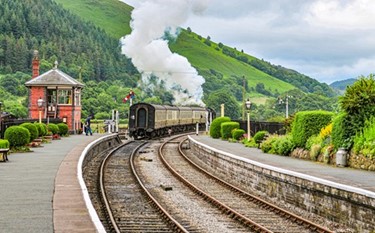 A second rail delivery to North Wales is helping one of the area's top heritage attractions gear up for another exciting year.
The Llangollen Railway is the only standard gauge heritage railway in North Wales and runs through the Dee Valley, an Area of Outstanding Natural Beauty. Darren Cole, UK Account Manager for Rail, explains "we supplied 56E1 flat-bottom rail rolled from British Steel Scunthorpe to the train line,helping them extend their journey to Corwen by 2.5 miles. Our latest delivery of the same rail profile is now being used to replace existing track in 2 areas midway along the line".
"Maintaining a facility like this is something of a labour of love, heritage lines by their very nature require ongoing care and attention and often rely on a handful of rail enthusiasts. I'm very proud Scunthorpe rail is playing its part in their ongoing story."
The railway starts at Llangollen Station in the heart of Dee and then runs for 7.5 miles following the River Dee upstream to Carrog, passing through some of the most beautiful scenery in Wales. Thanks to the installation of last year's delivery of flat-bottom rail, the line now runs for a total of 10 miles, terminating at Corwen Station. Terry Pickthall, Llangollen Railway Press and Communications Officer, said: "Our team, mostly volunteers, is putting the finishing touches to our fantastic new station at Corwen. This impressive facility will be a great asset to our operations and we're really looking forward to it opening in the summer.
"Alongside this, our staff and volunteers are also working hard to keep our existing line in excellent condition. The recent delivery of British Steel 56E1 rail has allowed us to replace a sizeable section of worn rail between our Berwyn and Glyndyfrdwy stations. This part of the line is in the very heart of the Dee Valley Area of Outstanding Natural Beauty and the work has been completed in time for trains to run over new Scunthorpe-made rails during our busy Easter operations in April. We're hoping the snow we've seen in March is replaced with spring flowers by Easter, but either way the valley always looks stunning!"
The former British Rail Ruabon to Barmouth line closed to passenger traffic in 1964 with goods traffic ending 4 years later. In 1975, the heritage railway was started by a group of enthusiasts who saw the potential for a scenic line through the Dee Valley. Terry said "When the line finally closed in 1968, the track, signalling and much of the infrastructure was removed or demolished quickly after. It's taken a lot of hard work from our enthusiasts over many years and it's their vision that has led to the fantastic service we offer today."
And later on this year, there are plans to start relaying further track, a project that will take around 2 years. Darren said: "The track that needs replacing next is located in the line's tunnel. It's 40 years old and has corroded because of its location, so we're looking into supplying our corrosion-resistant Zinoco® rail."
Zinoco rails are coated in zinc, which forms a protective barrier against corrosion, and thanks to latest advances, its super-hydrophobic finish also repels water. Darren said: "Corrosive environments, such as tunnels where water can collect, are notorious for significantly reducing rail life, so this solution could be the perfect option for the Llangollen line."