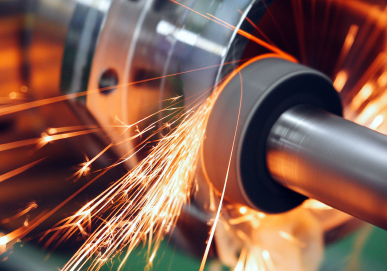 Our latest manufacturing survey has revealed that despite a backdrop of uncertainty, 60% of our respondents still expect their turnover to grow in 2023.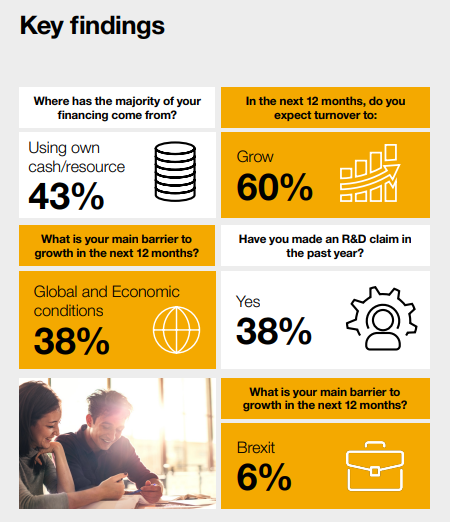 2022 was the year when supply chain issues and global price rises had a direct adverse effect on cash resources. Big increases in requirements for working capital for business and at the same time, credit scores came under increased pressure too.
What is your main barrier to growth in the next 12 months?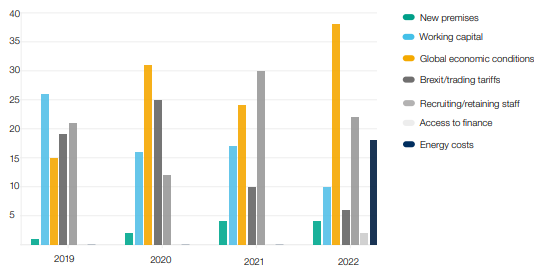 Our results show that just 10% of respondents see working capital/cash as a main barrier to growth in the next 12 months. When considering energy, it's encouraging to note that 66% of respondents had already invested in working towards carbon neutral.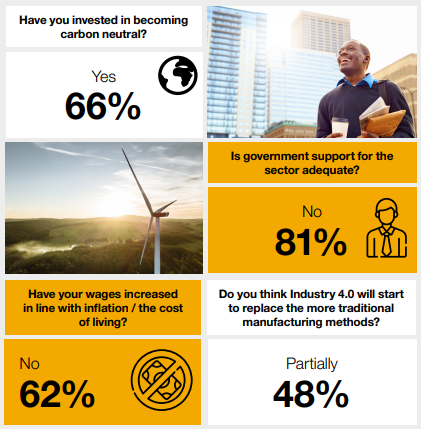 Recruiting and retaining staff has often been seen as a significant issue. When questioned whether employers had increased wages in line with inflation/cost of living, just 38% said that they had. This response will have clearly been affected by a number of factors, not least of which will be commercial affordability.
It's clear that our respondents do not consider that there has been anything like the government support received in 2022, compared to the two years affected by COVID-19 for the manufacturing sector, 81% of respondents expressed the view that there is insufficient support for manufacturers in what has been a really tough year. This is especially disappointing when so many manufacturers, innovated and diversified into manufacturing ventilators, PPE and supported the Nightingale initiatives during lockdown periods.
While manufacturing only officially represents about 10% of GDP, its relatively well paid workforce (just 38% of respondents, compared to 47% in 2020, considered the minimum wage an issue for their business), indirectly supports much of the service based sectors, such as banking and finance, retail, hospitality and leisure. Its impact has a magnifying effect on the overall GDP of the UK.
Funding
In the past 12 months, where has the majority of your financing come from?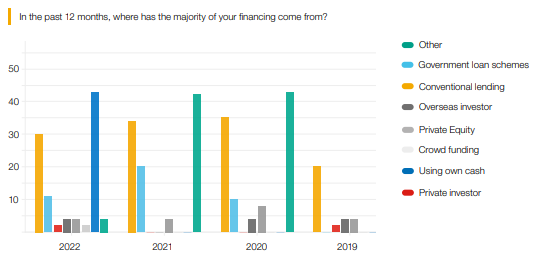 For the first time, this year we have seen some crowd funding recorded. This is interesting and possibly dependent on businesses product ranges and customer affinity. Clearly this is indicative of a sector prepared to embrace and deploy the unconventional and innovative to drive results.
What is very stark from these results, but perhaps no less predictable, is the reduction in conventional lending, as well as lending from other sources and the very significant increase in the utilisation of 'own resources'. Put simply, we believe these respondents have either been reluctant, or unable, to secure borrowing or funding from elsewhere and have been living off reserves.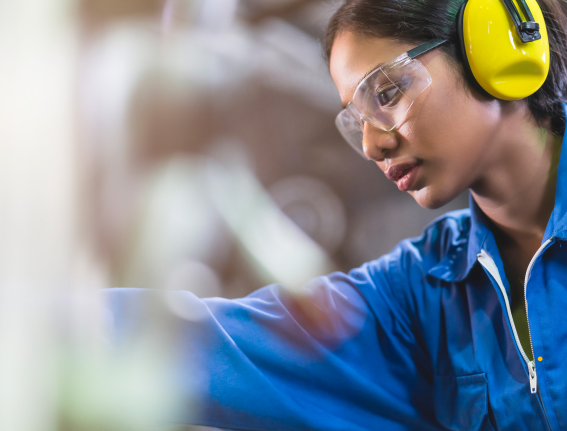 In the short term this may make sense for individual companies with challenging cashflow and restricted funding but in the future global economy it will be essential to make existing products, faster, cheaper and lighter using less energy; even from different or new materials, as well as to conceive new products and processes that cannot be conceived using traditional methods.
Conclusion
The successful manufacturing businesses will be those that manage their risks, anticipate trends and act on the opportunities that are presented by them.
Sheetmetalindustries.com would like to thank CBM and Crowe UK for access to this report. To view the entire report please visit CROWE UK