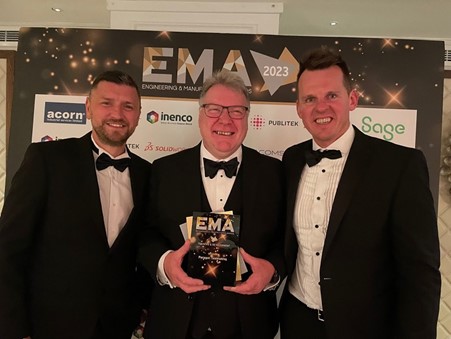 Paragon Toolmaking's complete commitment to nurturing and developing the industry's future toolmaking talent has been recognised with a prestigious national award.
We were crowned winners of the Training and Development category at the 2023 Engineering & Manufacturing Awards – a glittering awards night in London at which some of the biggest business names in UK engineering and manufacturing were finalists.
The category, which recognised the huge importance of manufacturing businesses ensuring their workforces are equipped with the required skills and knowledge, had been narrowed down to four finalists on the night.
And Paragon Toolmaking beat off competition from Akzonobel Ashington, In-Comm Training and Megger Group to take the crown.
General Manager Kevin Batty attended the ceremony, at The Marriott Hotel in Grosvenor Square, alongside Production Manager John Wells and business owner Daniel Beaumont, and says he was thrilled to be announced as winners.
"We were absolutely delighted as a business to be named as finalists given these are national awards. When we looked at the shortlists of all the categories, we were amazed to be alongside some huge engineering and manufacturing businesses," said Mr Batty.
"We know that we have an excellent training and development programme within our business, as we believe a commitment by companies such as ourselves to nurturing and developing our future workforce to be the cornerstone of our industry, maintaining what I always describe as the art of precision toolmaking.
"However, it was still a great shock to be named overall winners, with the judges saying our entry was exceptionally strong and demonstrated an unwavering commitment to developing and upskilling our workforce.
"I don't think they could have described us better. This was a huge platform to educate business leaders across UK engineering and manufacturing about our commitment to maintaining the highest quality of workforce. That sends out a really strong message about who we are as business and what we do."
Local, regional and national recognition
This latest accolade for the Paragon Toolmaking team competed a hat-trick of wins in awards events, and specifically in categories relating to training and development, having enjoyed local success at the Hull Live Business Awards and the Business Insider 'Made in Yorkshire Awards' in 2021.
"This demonstrates that, as a business we are not only leading the way in the manufacturing sector for in-house training locally in Hull, nor regionally in Yorkshire, but nationally. What an honour and something to take great pride in that is for our team."
The 2023 Engineering and Manufacturing Awards covered all elements of the manufacturing cycle from design to production, celebrating the achievements of engineers of all disciplines and manufacturing of all types.
Jon Excell, Editor & Publisher of The Engineer, media partners for the awards, said: "This year's competition has shone a spotlight on the incredible contribution made by manufacturers large and small and showcased both the innovative measures that engineers across industry are taking to grow their businesses in challenging times, as well as the role played by engineers in addressing some of society's most pressing challenges.
"Our shortlist – which was bristling with inspiring tales of best practice and innovation – provided myself and the rest of the judging panel with plenty of reasons to feel very positive about the future of UK industry. Congratulations to all finalists and winners."