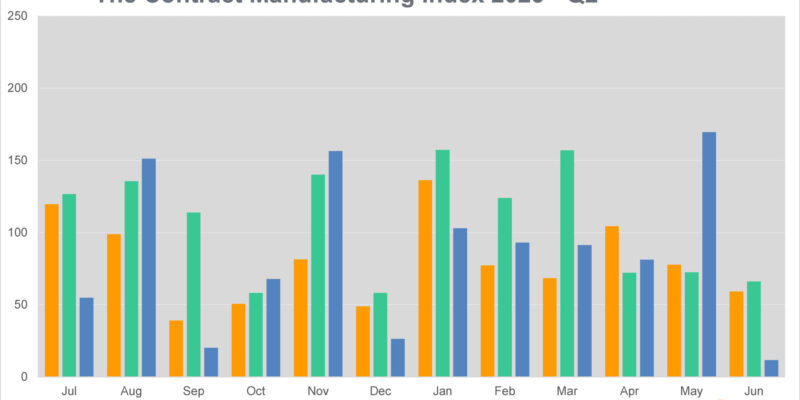 The latest Contract Manufacturing Index (CMI) shows that the UK subcontract manufacturing market dropped back by over a third in the second quarter of 2023 following a strong start to the year. A very slow quarter dashed hopes that the market was overcoming the effects of supply chain uncertainty and rising costs. The market was 24% lower than it was a year ago.
Market down 34% on previous quarter
Very slow quarter dashes hope of a rebound
The CMI is produced by sourcing specialist Qimtek and reflects the total purchasing budget for outsourced manufacturing of companies looking to place business in any given month. This represents a sample of over 4,000 companies who could be placing business that together have a purchasing budget of more than £3.4bn and a supplier base of over 7,000 companies with a verified turnover in excess of £25bn.
The baseline for the index is 100, which represents the average size of the subcontract manufacturing market between 2014 and 2018.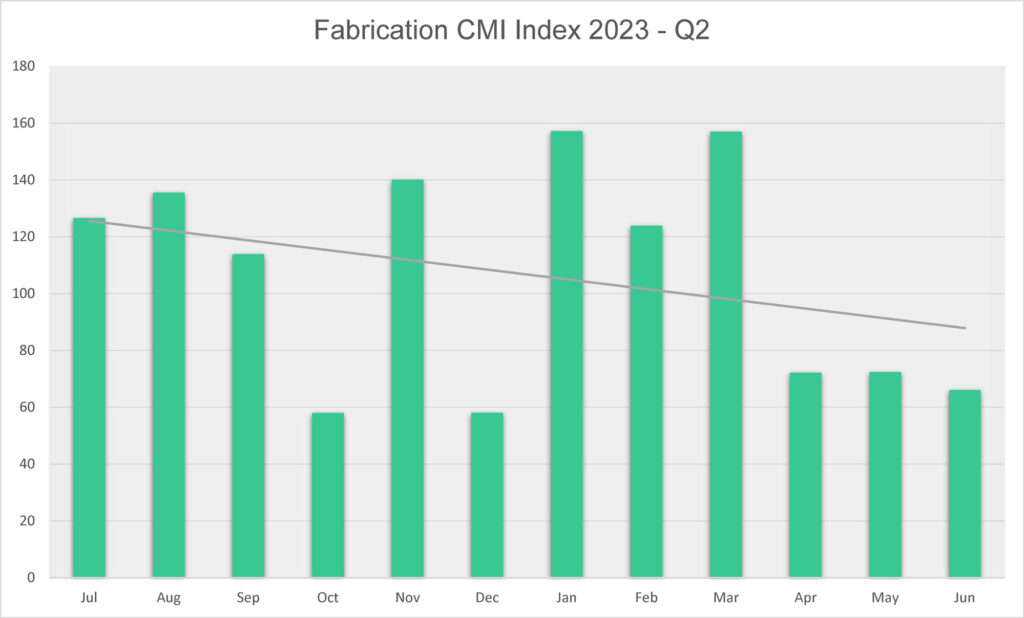 The CMI for Q2 2023 was 77 compared to 117 for Q1 2023 and 101 for Q2 2022.
Looking at the index on a month-by-month basis, the market dropped nearly 20% from March to April and continued to decline in May and June.
The biggest hit came in fabrication work, which was down 52% on the previous quarter, having been the driving force for previous market strength. Machining work was down by 14% and actually 12% higher than a year ago. Overall, fabrication represented 40% of the market, with machining on 49% and other processes on 10%. In the previous quarter fabrication had represented 55% of the market with machining on 38%.
Industrial Machinery was the biggest market but was down nearly 80% on the previous quarter when it had also been the biggest market. The second biggest market was Marine, which was 20 times higher than the previous quarter, but this is more an indication of volatility in a small market rather than strength in that particular sector. In addition to Industrial Machinery, the biggest fallers were Food & Beverage and items for the Electronics sector such as fabricated enclosures.
Commenting on the figures, Qimtek owner Karl Wigart said: "It was not a good quarter at all and rather a dampener following our expectations from the start of the year. Obviously having three bank holidays in May had some effect, but there were fewer new projects from larger manufacturers and less activity from buyers.
"An increase in quoting activity showed that suppliers are trying harder to win new business in a tight market."