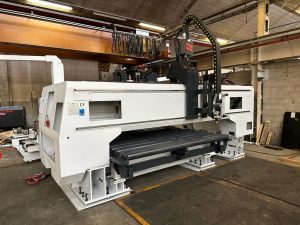 Had Fab Ltd are pleased to announce an investment of £400,000 in a new CNC heavy plate processing machine, helping it more than double the capacity of the business.
The investment – which has been supported by a grant from Enterprise Scotland – is a significant investment for Had Fab and will enable production of precision cut steel components in a fraction of the time and to the very highest quality.
The commitment – which forms part of our strategic growth plans – enables grow of the already successful Power Transmission and Distribution division more than 2-fold and will position us as one of few companies in the UK to be able to manage precision cut steel at significant capacity.
The machine – which has been commissioned as a bespoke item and manufactured in Italy – is capable of producing up to 100 sheets of 10mm steel in as little as a 24hr period. Potentially, slashing production time of typical tower jobs by as much as half.
Other advantages include
The requirement to only measure once, meaning sheets can be processed in one operation resulting in significant throughput
Exact specifications – communicated through sophisticated software – enabling exacting drill precision with the shortest movement of paths
Finished product which can sorted based on length, product name and any other processing requirements.