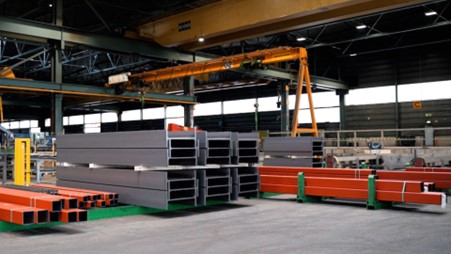 Tibnor has become a one-stop-shop
Tibnor is part of listed steel producer SSAB and with 1100 employees, they operate in seven countries. Tibnor provides steel, metal – and production services. As a steel distributor they focus on pre-fabrication services combined with extensive stock selection and thus aim to maximize added value for their customers. For Tibnor's Hyvinkää steel distribution center it was a logical step to invest in the sawing and drilling line equipped with a Voortman V631 and Voortman VB1050 with gripper truck and the SPRS-system.
Meeting on site gives confidence
"The opportunity to first see the factory in the Netherlands and get acquainted with your company on site gives confidence that things will work out and makes all the difference. It is well organized and very professional. A good approach and quick delivery of the machine," were nice compliments during installation.
"Very important aspect was also a surprinsingly good communication. The delivery time was under pressure, but that was communicated in time and managed well. We knew what to expect and felt we could count on Voortman. Occasionally there may be a problem with the machine. Pleasant to be able to contact customer service immediately then. They are easily accessible and we get a quick response. Questions are answered immediately, so that we can get on with it".
Customer portfolio grown through renewed offering
Being able to support the customer in a value-adding way is the starting point for Tibnor. "Thanks to this newest investment we have brought our pre-fabrication services to a totally new level. Being able to automatically saw all desired angles, mill, drill, tap, countersink, mark and measure means significant value-add compared to conventional cut to length operation. It strengthens our service portfolio and increases the range of products we can offer", says Mika Laatikainen, Business manager at Tibnor.
"It strengthens our service portfolio and increases the range of products we can offer. We have realized several successful projects through this new line. Being a one-stop-shop for the customer. That is what we have become".
Mika Laatikainen goes on to talk about the growth they are experiencing through the new offering: "The saw and drill line makes it possible to deliver larger projects. We can manage the great complexity of these with automation. The customer has several choices and we think with them what the best options are to work more efficiently and save costs. They can concentrate on their core business and outsource what is not attractive for themselves. This way of working has allowed us to reach new customers in steel construction, from small to large companies."
VOORTMAN V631 – High speed beam drilling and milling
The Voortman V631 is a real all-in-one beam drilling & milling machine enabling multiple processes on one station, saving you logistics and manual handling. With its robust frame, bearings and short tool lengths, the V631 provides high quality processing and adds impeccable value to your workshop. The V631's impressive milling capabilities and simultaneous drilling and marking on all sides provides high speed processing to accelerate production.