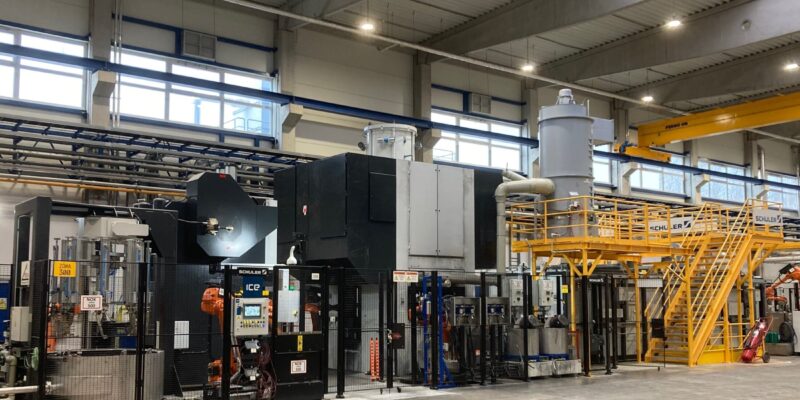 Aluminum chassis parts to be produced on a 2,500-ton Farina scotch yoke press at new production site in Czech Republic
Strojmetal, based in Kamenice near Prague in the Czech Republic and in Singen (Southern Germany), is one of the leading manufacturers of aluminum chassis parts and applications in the powertrain and battery housing sectors. The product range has been greatly expanded in recent years from applications with a component weight of less than 200 g to 8 kg.
Lightweight construction in vehicle technology is becoming increasingly crucial, especially for alternative powertrains. High ductility aluminum forgings from Strojmetal are the right solution here. Forged parts such as these can now also be produced on a 2,500-ton scotch yoke press from Schuler subsidiary Farina. It is the centerpiece of a line that has now gone into operation at Strojmetal's new site in Bruntál on the Polish border.
"Thanks to the excellent cooperation already in the design phase with Schuler, Strojmetal and the in-house automation company i.c.e. industrial services, we managed to complete the commissioning from the first stroke to series production in just three months," explains Miroslav Zahorec, Chief Financial and Production Officer of MTX Group, which Strojmetal belongs to. "The project naturally benefited from our many years of experience as a general contractor," adds Schuler managing director Frank Klingemann. "By implementing a virtual commissioning of the line in advance, the ramp-up phase on the construction site was reduced enormously, which further shortened the time to the start of production."
Thanks to the KERS kinetic energy recovery system, the power consumption of the GLK type press is reduced by up to 40 percent, while the output is increased. The machine is part of a fully automated line that also includes several robots and ovens as well as another 250-ton press provided by Schuler subsidiary Beutler Nova for deburring the forgings – the operators' only task is to monitor production.
Strojmetal celebrates its 200th anniversary in 2022: Josef Ringhoffer founded the company in 1822 as a copper smelter in Kamenice. In 1940, the forging of aluminum alloys was added to the program. In 2013, the Czech co-owners of Strojmetal bought the remaining shares from Constellium Singen GmbH. In 2020, Strojmetal was acquired by the MTX Group and successfully integrated into the overall group.
Today, highly automated forging lines, but also manual presses, produce predominantly for the automotive industry. In addition to forging, machining and assembling aluminum parts, the product portfolio also includes the development, construction and design of aluminum chassis parts for the automotive industry.
"After two challenging years in the automotive industry, this year we were again able to win major orders from well-known OEMs and suppliers for both production sites. The strategic partnership with Schuler and the efficient implementation of joint ideas has significantly increased our attractiveness in the market," sums up Andre Materne, Managing Director of Strojmetal Singen GmbH.