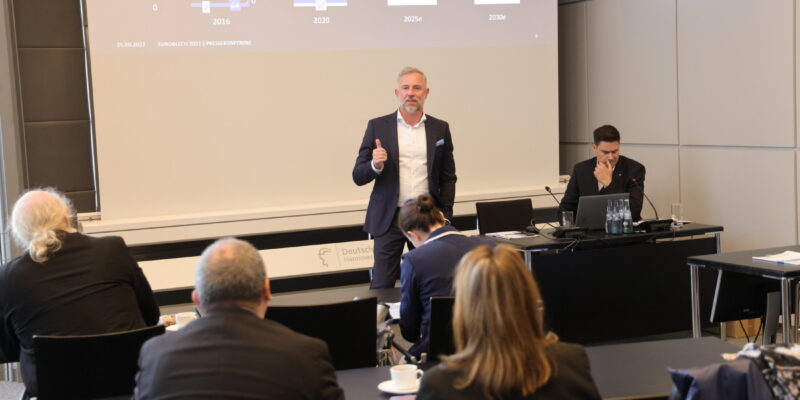 CEO Domenico Iacovelli sees the company in a good starting position – also in order to leverage new potential in e-mobility.
Göppingen, October 25, 2022 – Schuler CEO Domenico Iacovelli had good news to bring to the press conference at the EuroBLECH trade fair: both incoming orders and order backlog as well as sales at the end of the third quarter were significantly up on the previous year, while earnings and EBITA margin continued to improve. The company is in a good starting position thanks to high cost discipline, numerous successful innovations, and the internal "Core" strategy, says Iacovelli: "Schuler has increased its resilience."
The CEO expects a lot of potential for Schuler and its customers from the digital transformation and the shift to electromobility. The company had recently acquired the Italian Sovema Group, which offers pilot and laboratory lines for the production of high-quality battery cells. The market for lithium-ion batteries is estimated to increase from just over 600 gigawatt hours in 2020 to nearly 3,000 in 2030. "With Sovema, we will develop turnkey solutions for the giga-factories," Iacovelli emphasized.
At the same time, the number of solutions for networking forming technology that Schuler has gathered in its "Digital Suite" is growing continuously. The latest new developments include the "Visual Quality Inspection" parts control system, which is particularly easy to operate, the "Cyber Security Check" to protect production lines against attacks from the network, the "Energy Monitor" to reduce power consumption, and last but not least the "Service Portal", which can be used, among other things, to call up documentation and contracts for all machines in the press shop and to request any spare parts that may be required. Visitors to EuroBLECH can find out more about all applications at Schuler's booth 27-G82.
Schuler has also launched a campaign to attract skilled workers and young students under the motto "Breaking new ground together". "Many exciting tasks with great scope for creativity await you at Schuler," emphasized CEO Domenico Iacovelli. "Anyone who wants to shape mechanical engineering in the digital age is in the right place."