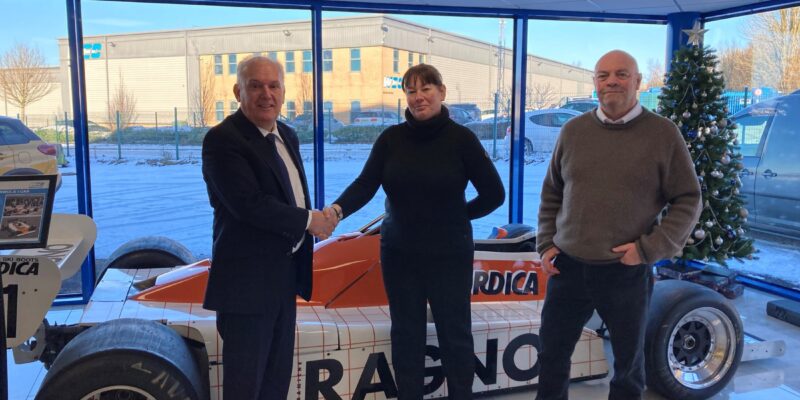 The Ruskin Museum are very proud to announce their partnership with WEC Group Ltd. With over 40 years of manufacturing experience and over 850 staff across 4 counties, WEC Group comprises of 14 manufacturing companies specialising in individual areas of engineering and fabrication.
WEC Group is the Ruskin Museum's chosen engineering partner to deal with the ongoing maintenance of their hydroplane Bluebird K7, which was owned by Land and Water Speed Record breaker, Donald Campbell CBE.
Managing Director of WEC Group, Steve Hartley started the company over 40 years ago when it was a small welding and fabrication shop in Darwen, Lancashire and it is now one of the largest manufacturing companies in Europe.
Steve, however, has another passion, he loves all things speed related. Steve is no stranger to fast vehicles as he also races vintage formula 1 cars, racing at circuits in Belgium, France and USA to name a few. Steve is also the owner of an Aero L-39 Albatros Jet which he and his team operate and fly. He also owns and runs a Hawk T1 and is delighted to be involved with Bluebird K7.
Steve Hartley says: "The Bluebird K7 Hydroplane was originally manufactured at Samlesbury Engineering, just a few miles away from our new Engineering Academy and we're really excited that our apprentices will get the opportunity to provide engineering support and manufacture new parts for such an iconic engineering masterpiece back here in the Blackburn area where it all started."
WEC Group originally opened the door of its in-house Engineering Academy in 2006 in a bid to tackle the local engineering skills gap, and over 200 apprentices have since been trained at the facility.
WEC's welding & fabrication apprentices get to learn their craft while working on exciting community projects every year. Recent work has seen them fabricate a range of parts and a trailer for the Longbow Jet Hydroplane. WEC Apprentices were also recently heavily involved with the successful launch of Skybolt 2, an 8.3m tall space rocket.
WEC Group recently relocated their Engineering Academy to a newly purpose-built training facility at Walker Park, Blackburn, following a two-year construction phase and a £3m private investment from Steve Hartley. The new Academy was officially opened in September 2022 and it will allow the company to meet their pledge to train a further 400 apprentices over the next 10 years.
Jeff Carroll, Vice Chair of The Coniston Institute and Ruskin Museum says: "It's really pleasing that we can announce the involvement of WEC Group with the Ruskin Museum. Their experience in a diverse range of engineering projects is incredible and we are honoured that Steve has seen fit to involve himself in our aims."
"It is incredibly fitting that when we have physical possession of Bluebird K7, that she should be worked on by supervised apprentices giving them a memorable experience they will carry for the rest of their lives. The additional fact that the Apprentice Academy is in Lancashire, not far from where K7 was originally built, is all the more poetic."
"Steve's interest, background and network in aero and motorsport engineering are very impressive and should come in very useful in maintaining the future of Bluebird K7."
Tracy Hodgson, Director of The Ruskin Museum added "We are over the moon to be working with Steve and WEC Group. Bluebird K7 will primarily be looked after by WEC's Engineering Academy where apprentices will work on and learn all about this iconic machine. What better way to inspire the next generation of engineers!"