Robotics have already changed our lives in innumerable ways and will continue to do so as more and more industrial processes become automated.
Anton Nebbe, who is responsible for Close Asset's research brief, takes a look at some of the numbers behind the rise of the robots, but first he defines what a robot actually is…
According to Science Direct, industrial robots are 'numerical control systems that can be automatically controlled, and are reprogrammable, multipurpose manipulators that can move along in three or more axes'. These robots are programmed to carry out a specific action repeatedly without variation, and with a high degree of accuracy.
The father of industrial robots is generally regarded to be George Devol, who developed the Unimate, a material handling robot performing basic welding and carrying tasks, which started work on a General Motors assembly line at the Inland Fisher Guide Plant in Ewing Township, New Jersey, in 1961.
While the car manufacturing sector remains one the largest areas of application for electro-mechanical machines, it was the electrical/electronics industry that installed the most industrial robots in 2020.
Industrial robot market
The global market for industrial robots was worth about £32.5bn in 2021 and is expected to grow at around 10% per year, reaching £52bn by 2028.
Worldwide industrial robot shipments amounted to around 384k in 2020 and it's projected that industrial robot shipments will increase significantly in the coming years – by 2024, global industrial robot shipments will amount to 518k
Japan, China, the United States, South Korea, and Germany are the leading industrial robot markets worldwide.
Globally, the operational stock (the level of inventory required to meet operational obligations) of multipurpose industrial robots was around three million units in 2020, double the number in 2014.
The ABB Group, Siemens and Mitsubishi Electric are the major players in the industrial automation and industry software market, which is comprised of a variety of products and services, including relays, switches, and control systems, along with industry software development and services.
With the growth in artificial intelligence, the market for automation software is expected to grow to nearly £40bn by 2023.
Regional performance
Asia-Pacific was a strong performer in the global robotics industry in 2020, with unit shipments of industrial robots in China amounting to 168k, compared to 39k units shipped the same year in Japan, which is the next major user of industrial robots.
In 2016, Robotics was identified as one of its key strategic sectors by the Chinese government who launched various programs to support its robotics companies and promote the adoption of robots in national manufacturing industries.
Two key reasons for this focus were rising wages and the decline in growth of the working-age population. While the number of robots installed in China has risen annually their robot density is still fairly low in comparison with South Korea, Singapore, or Japan.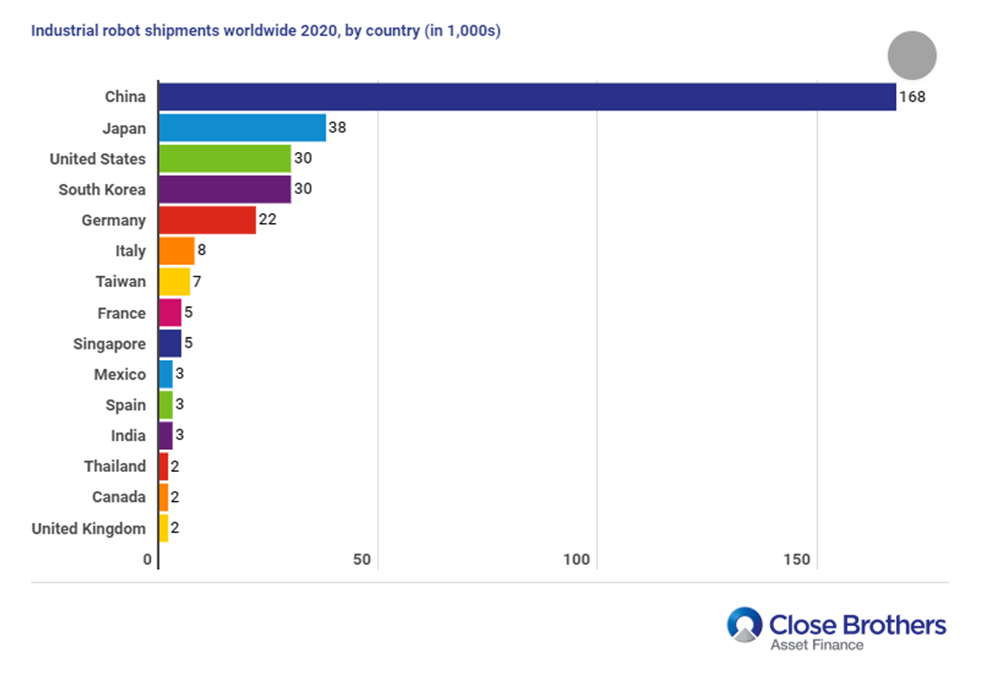 The view from the UK
In 2020, multipurpose industrial robot shipments in the UK were estimated to be around 2,200 units with 40% of those installed in the UK automotive industry, bringing the total of industrial robots in the UK to about 23,000.
Only 5% of UK employees who took part in a 2019 survey thought there was a high risk of their job being taken by a machine; 75% felt there is no risk.