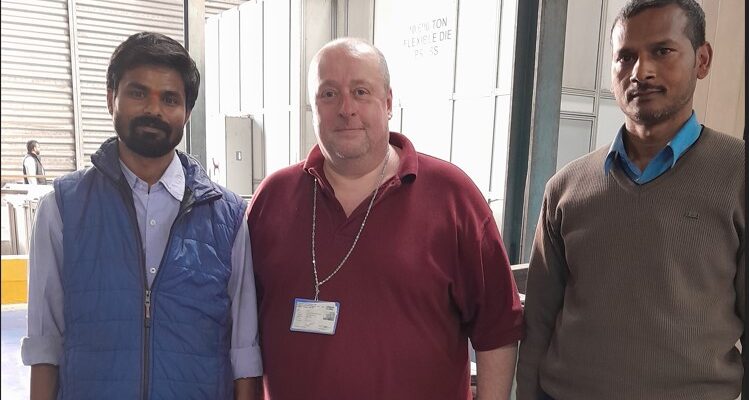 Group Rhodes Interform service team has recently resolved a major service issue on a large Rhodes 10,600 tonne polymer dye press for a customer in India. This particular model of polymer die press, which in terms of tonnage is one of the largest machines designed and built by Rhodes, is mainly used in the aerospace sector.
The machine, which had been supplied by Rhodes Interform in 2013, had been left unused for several months due to project cancellations. Consequently, the press had developed several issues with both software operation and hardware functionality. The Rhodes team managed to resolve the software issues remotely, but the hydraulic issues required our Service Manager to travel to India to diagnose and address the problem.
The challenge facing the service team was that the machine was not reaching the desired pressure on both the front and rear loading tables when in automatic mode, and there were large fluctuations between the programmed pressure and that being achieved during the forming process. The problem highlighted the importance of a good maintenance regime, and in particular the need to power up and cycle polymer dye presses when not in production. Pumps, gearboxes and hydraulic oil control components require regular lubrication, and software battery back-ups need to remain fully charged.
Service Manager Jonathan Hellowell, who attended the plant in India, investigated the problem and identified several issues including a blocked hydraulic filter. This was replaced, the machine serviced, and the press returned to full operational capacity.
As Jonathan explains: "This international service call highlights the importance of regular machine inspections and planned preventative maintenance. Had such a programme been in place, this type of fault could have been prevented. We provide dedicated service contracts for our own presses and those other makes across the world."
Whilst on site, Jonathan carried out a full press diagnostic survey with condition monitoring equipment to check all of the rotating equipment on the press. Performance degradation due to fouling, corrosion, or erosion of material can result in an increase in vibration and noise. This data is acquired and analysed to monitor unbalance, bearing deterioration, seal degradation, misalignment and resonance.
The results showed the Rhodes engineers that the press was in good working order and there were no immediate areas of concern. The customer was extremely impressed with the survey and has asked that we continue to provide planned maintenance work on the machine in the future.
Rhodes Interform offers fully certified refurbishment services on any make and model of metalforming and composite press.