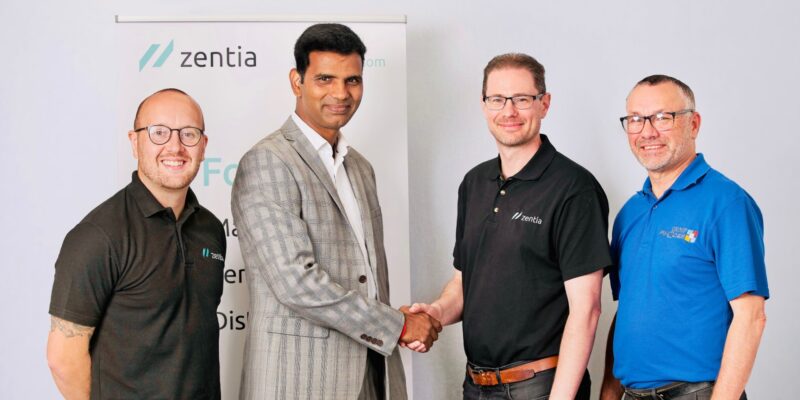 Rhodes Interform, one of the UK's leading metalforming machinery manufacturers, has secured a multi-million-pound contract to manufacture and supply a brand-new mechanical punch press for Zentia, a manufacturer of high-performance mineral ceiling tiles for its facility in Gateshead, Tyne and Wear.
The Rhodes DS2-315 Geared Press is a double-sided 315-tonne mechanical press, designed with a two-point suspension that allows for a larger working bed area, even distribution of nominal tonnage, and accommodates any offset loading. Installation is scheduled for 2024 and is intended to provide improvements on the Rhodes DS2-200 Geared Press currently in operation at the plant.
The entire process, including the design, manufacture, and installation of the press, will be handled by engineers at Rhodes Interform in Wakefield, West Yorkshire, including the removal of the press currently at the premises in Gateshead.
Mark Ridgway OBE, CEO of Group Rhodes stated: ''It is a privilege to be asked to supply Zentia with another high specification metalforming solution. As a UK market leader of complete ceiling solutions, Zentia requires the production speed and accuracy that is provided by the high specification Rhodes DS2 mechanical press range. We look forward to working closely with the Zentia team on this valued project''.
Neil Hunter, Engineering, and Improvement Manager at Zentia explains: "The existing Rhodes press has been in service for 30 years and has punched in excess of 300 million square metres of ceiling tile in this time. We are looking forward to receiving the new increased tonnage press to allow Zentia to manufacture high end products predominantly for the UK and Ireland markets."
Rhodes Interform is a division of Group Rhodes, which is soon to be celebrating its 200th anniversary, offering a wide range of hot and cold forming technologies for specialist metal forming applications across several industrial sectors. In addition, the company's composite machinery is used to produce structural components for the aerospace and automotive sectors.
As well as manufacturing state-of-the-art presses, Rhodes Interform reconditions and upgrades its extensive range of existing machines at a fraction of the cost of buying new, as well as undertaking refurbishment work on equipment of other makes. The company can also offer full PLC or CNC control system upgrades with software designed to meet the individual requirements of each customer.