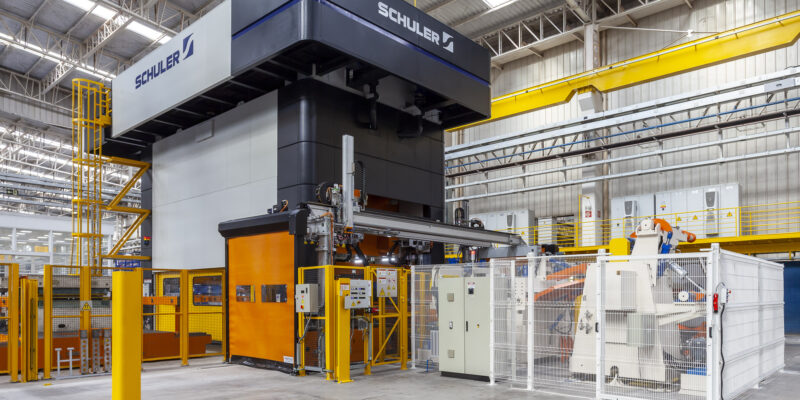 400-ton servo press and 1,250-ton conventional press
will produce deep drawing parts for motor housings
Automotive supplier Zhenjiang Xianfeng Automobile Components Co., Ltd., has ordered its third and fourth machine from Schuler. The scope of delivery includes a 400-ton servo press and a 1,250-ton conventional link drive press – used to produce deep drawing parts for motor housings. They will be manufactured at the production site in China, supported by the experts in Germany and Brazil.
The 1250-ton line is the largest one for Xianfeng so far. It all started back in 2016 with a 160-ton press together with a Bihler machine, followed two years later by another link drive machine with 800 tons of press force. In between, the customer also ordered dies from the Schuler subsidiary Aweba. Since Xianfeng and Schuler both focus on technology and quality, they make a perfect match and further strengthen Xianfeng's leading advantage in its industry.
The servo press for instance features two exclusively electronically synchronized drive trains in an opposite arrangement, which makes the machine more dynamic. In addition, the pressure points are further out, increasing the possible eccentric load. Furthermore, the 400-ton and the 1250-ton machine are both IoT ready in order to increase productivity and support the customer's demand for digital intelligent stamping workshop in the future.
Xianfeng was established in 2002 and employs around 200 people today at the company site in Jiangsu, Zhenjiang. Four workshops, an office building and a multi-functional building cover a floor space of approximately 40,000 square meters there. Xianfeng is also a good partner for top customers like Bosch, Continental, Brose, Tesla, BYD and Greatwall. The company wants to more than double its sales and create new performance heights by 2025 – according to the slogan "Dare to be the first, Venture to be the best!".