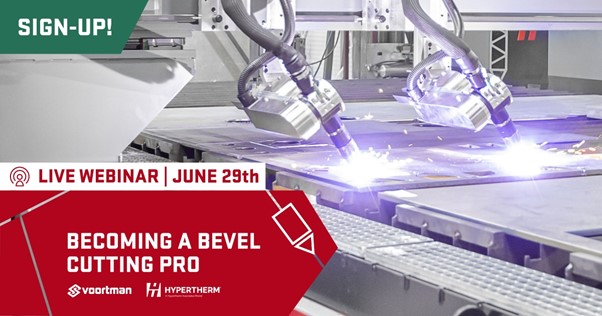 Secure your seat for our upcoming Voortman webinar!
Voortman Steel Group wanted to make sure you are aware of an exciting upcoming webinar titled "Becoming a Bevel Cutting Pro." In collaboration with Hypertherm, this interactive event aims to equip visitors with the knowledge, tips, and expertise necessary to excel in creating high-quality bevel cuts and weld preparations. Whether you're a beginner seeking to learn the fundamentals or a seasoned professional looking to enhance your bevel cutting capabilities, this webinar is designed to cater to individuals of all skill levels. No matter if you work with plates, pipes, domes, or profiles, this webinar has got you covered!

Scheduled for June 29th, this engaging webinar will be broadcast live from the new state-of-the-art Voortman Engineering Center. Engage in immersive discussions and learn from demonstrations set in a real production environment.

Recognizing the diverse global audience, the event offers two time slots – 4 PM and 6 PM (CEST). You can choose the session that best suits your schedule. 
Our discussion topics will include:

Programming bevel cuts and applying general optimizations.
The role of height control and cutting path transformation in bevel cutting.
Creating perfect long bevel cuts and pinpointing key areas of interest.
Technologies applied to automatically correct for all bevels.
Tackling challenges with warped plates, disrupted cuts and deck maintenance.
Boosting consumable efficiency and minimizing wear for optimal performance.
Reducing material and consumable costs in bevel cutting for increased profitability.
Seats for this event are filling up quickly. So, don't miss out and secure yours today!
Feel free to share this invitation with your colleagues as well, so they can benefit from this webinar too.
We look forward to having you join us on June 29th!