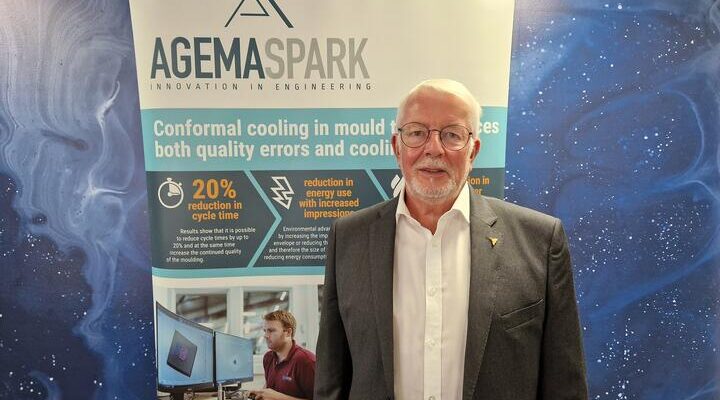 The managing director of a precision engineering company has put a spotlight on working with the AMRC and how the partnership has enabled them to be involved with 'incredible new technological developments in manufacturing, as it marks its 20th anniversary.
Doncaster-based business Agemaspark, which is a partner of the University of Sheffield Advanced Manufacturing Research Centre (AMRC), as well as being an apprentice employer of the AMRC Training Centre, is celebrating its milestone by reflecting on achievements of the past and looking forward to an exciting future.
Paul Stockhill, managing director at Agemaspark, set up the company with Bryan Moylan, managing director of machine tool company Eurospark, after the pair secured a growing amount of subcontracting work.  
After two decades, Paul, who is also a member of the AMRC Training Centre's Industrial Advisory Board, has several highlights. "My biggest highlight was the day all the new machines were finally installed," he said. "I could look down on the workshop from the upper landing and imagine what the future was going to hold for Agemaspark.
"The second highlight is some of the projects Agemaspark has worked on with blue chip companies, like putting things into the space station and working on parts that went to Mars.
"The third highlight was becoming a tier two member of the AMRC (Advanced Manufacturing Research Centre) in Rotherham. We are involved in incredible new technological developments in manufacturing and playing a small part in helping to develop exciting innovations for the future."
Agemaspark, which started as a two-man subcontracting business in October 2002, today produces unique designs and parts for companies all over the world – and offer clients a one-stop shop for engineering solutions by combining new technology with cutting-edge design and manufacturing. They work with several different industries, including aerospace, oil and gas, medical, food processing, plastic injection moulding and higher education.
Paul says one of his key learnings from the past 20 years is to "never stand still" and "embrace new technology" to stay relevant in a constantly-changing industry. Following that approach, Agemaspark is well-positioned for further future growth.
"In the future I intend to leave Agemaspark to my young workforce to take it to its maximum potential," he said. "But I will be in the background to guide and encourage them to look to the future and take inspiration from what is happening around them and the technologies that haven't been imagined yet."