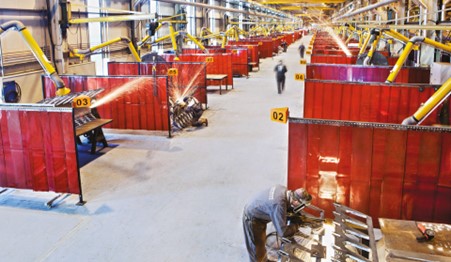 The North East's industrial capacity has received a significant boost with a host of investments at Armstrong Works announced by Pearson Engineering. The investments, which include site improvements, new jobs and more than £5,000,000 of new manufacturing equipment in daughter company, Responsive Engineering, demonstrates the company's commitment to the North East and to the future of UK manufacturing capability.
The investments will not only play a leading role in the delivery of critical equipment across most of the UK's armoured vehicle programmes, but they will also serve a growing number of civilian markets such as rail, renewables, and construction.
In a show of confidence in future programmes, Responsive Engineering's manufacturing potential will be boosted by a new press brake, with a maximum bending force of 800 tonnes. The investment enhances the companies' already proven armour manufacturing capability, allowing heavy armour plate to be shaped and formed without the need for welding. This retains the blast and ballistic integrity of the material, increasing survivability for operators.
In addition, the company has commissioned the manufacture of a new gantry milling machine, which will be one of the largest in Europe. The machine will be able to achieve the highest tolerances on major fabrications, up to 11m in length. This investment builds on Responsive Engineering's already impressive manufacturing capability.
"These equipment investments will help us to deliver projects to our customers of an even greater scale and complexity. They allow us to take on projects that have not previously been possible, but for which we have significant expertise and experience within our workforce. We are working hard to introduce new people to the business to take this incredible capability into the future, and to contribute towards the prosperity of our region." – Rachel Mansfield, Managing Director at Responsive Engineering
Both companies are investing in the future of their workforce with the recruitment of craftsmen, apprentices, graduates, and senior professionals. An initiative to enhance links with local colleges will be announced this year to further support Responsive Engineering's talent pipeline, training students in manufacturing skills for some of the world's most critical industries. The establishment of this future manufacturing academy will build upon the companies' commitment to developing the next generation of skilled professionals and supports its ESG strategy, which also prioritises support to veterans and service leavers. In the last 6 months, a host of staff initiatives have also been rolled out, including a new healthcare plan and community activities.
Investment in the Armstrong Works building itself will ensure that both companies can continue to support customers effectively, efficiently, and safely. Further initiatives to improve the environmental sustainability of the site include the introduction of a cross-company Environment Action Group to find iterative improvements to everyday operations, as well as research into the electrification of our products, to reduce their long-lasting environmental impact.
Armstrong Works, originally built in 1847, has served armed forces in the UK and around the world and continues to make a significant contribution to defence programmes today.
"Investment in improvements to the historic Armstrong Works readies the site for the future and helps us to deliver against our commitment to our customers, across a wide range of sectors. Our customers, whether they are in defence, rail or energy require the highest levels of manufacturing capability, quality, and skill. We are proud of our continued commitment to investing in both our people and manufacturing capabilities, which also creates exciting and varied opportunities at both Pearson Engineering and Responsive Engineering, for generations to come." – Craig Priday, Managing Director at Pearson Engineering