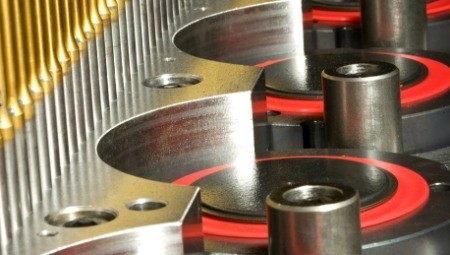 Paragon Toolmaking Co Ltd is the first port of call in the building and construction sector when looking to create specialist products which require precision manufacturing.
Over the years Paragon Toolmaking has been called upon to design and build tools able to produce millions of components, able to manufacture anything from the smallest of parts to precision piercings of materials.
General Manager Kevin Batty says the key is often Paragon's ability to find a solution to manufacturing issues when customers have a very specific, and challenging, product requirement.
"We often find customers come to us and they know exactly the product that they want, because they have a very certain problem to overcome, but they are struggling to find a way to make it in which it will meet its performance requirements, that's where our expertise really makes a difference."
Mr Batty gives the example of a clip component which is now made in the hundreds of thousands by a manufacturer and is used in a bracketing system to hold cable trays in the commercial and industrial construction industry, for cable management.
A client of Paragon's has produced more than 800,000 pairs of clips in less than two years using the repeat progression tool provided, and recently returned for an extra duplicate, standby tool, such is the importance to their business.
Following recent difficulties for the customer in terms of materials supply, Paragon were also able to ensure the new tool was capable of producing the component using material either 1.4mm or 1.5mm thickness.
"That is an example of the exacting precision of our toolmaking, and our ability to be able to help customers find solutions," said Mr Batty.
"That particular tool, which produces a clip on a bracketing system to adjust the height of supports for a cable management system, was one in which we had to suggest changes to the original part to improve the strength of the component.
"The first tool we provided is creating around 500,000 pairs of clips per year, and now we have refined the tool when providing a duplicate to overcome issues the customer has faced with material supplies.
"That extra point of a millimetre will make a huge difference to our client, but needs a tool which produces components of exacting measurements, or they simply wouldn't work.
"It was all about working with the customer to understand their requirements, and to deliver a product they required."
Assembly tools used to manufacture panels for access flooring systems
Another product for which Paragon's expertise has been called upon is in producing panel forming, notching and assembly tools to manufacture access flooring panels.
These are products widely used in commercial buildings to allow access easy access to underfloor cabling and technological equipment.
The tooling designed and manufactured at Paragon sees panels and borders attached around wooden bases, ready to be delivered to customers.
Paragon has also been called upon to supply precision piercing tools to clients which produce ground reinforcing netting, which stabilises and reinforces soil and aggregates. These tools are used by clients internationally.
Mr Batty added: "The beauty of our work is that we get many clients in the manufacturing and building industry turn to us with very similar needs.
"Of course, each and every customer needs a specific tool, and we always ensure complete client confidentiality with regards to the solutions and tooling provided.
"However, the nature of our work means we gain expertise which puts us in a very strong position to support others in the industry who are in need of similar products.
"It means that, nine times out of ten, when a client turns to us and says they need a certain product manufacturing, we already have the expertise and knowledge because we have hundreds of years combined experience across our team."