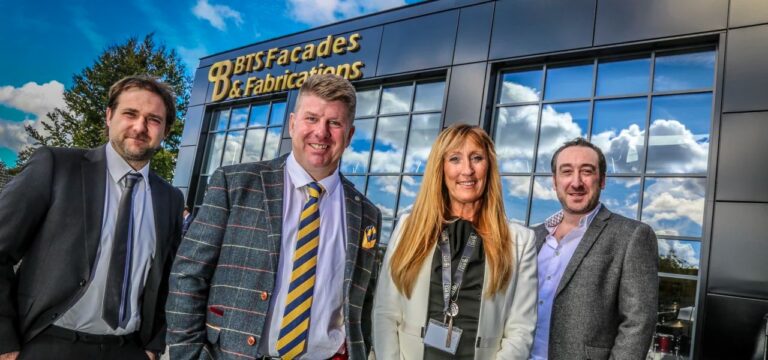 Newton Aycliffe-based manufacturing firm, BTS Facades and Fabrications, has announced it has achieved its Carbon Neutral Certification.
BTS, which manufactures façade products for clients across the UK, has taken steps towards its goal of achieving NetZero by offsetting its carbon.
The certification has been achieved thanks to the help of Blue Marble, a planet impact management company, who have been working with the BTS team to share their expertise over the past two months.
During this period, the manufacturing business underwent an intense audit period, where its carbon footprint and greenhouse gas emissions were calculated.
BTS has invested in an equal number of Verified Carbon Units, which will offset the impact of the carbon it produces, neutralising the effect it has on the environment.
This is a huge step forward, but BTS' managing director, Philip Atkinson, acknowledges there is still more to be done.
He said: "We are incredibly proud of what we have accomplished so far, but this is just another step we've made towards achieving NetZero."
"Our next challenge is to work on our scope three emissions, which are produced indirectly from our business, mostly from our supply chain.
"This means we're going to have to work closely with the people we trade with to ensure they are working in a way which aligns with our sustainability values, which in turn should help to reduce our greenhouse gas emissions.
"To support this, we're working towards our first Environmental Product Declaration (EDP), which will assess the environmental impact of everything we manufacture and will help us consider alternative suppliers for sustainable materials.
"We're hoping to make a start with our first EDP in December, where our flagship Vantage SF rainscreen system's environmental impact will be assessed."
The facades business began its sustainability journey in 2015, when it achieved its first ISO 14001 certification, a globally recognised accreditation for businesses which meet environmental legal compliance, which it renewed earlier this year.
Going forward, BTS will continue to work alongside Blue Marble, whose guidance will help them achieve a PAS 2060 certification, in a strategy which also incorporates aims from their already gained ISO certification.
While BTS could self-certify its PAS 2060, the team will continue to work with Blue Marble to ensure British Standards Institution (BSI) guidelines are followed, guaranteeing the projects the team invest in are verified.
Philip Atkinson added: "We've also made some little steps towards lowering our footprint too, including cycle-to-work schemes, ambient light maximisation, renewable heating and educating our team of 49 people.
"Ultimately, to achieve NetZero we're looking to make a number of bigger changes. We are actively working to reduce our emissions, and in the coming years, our factory will run from renewable energy supplied from solar panels and our own wind turbine, in a bid to improve our self-sufficiency."