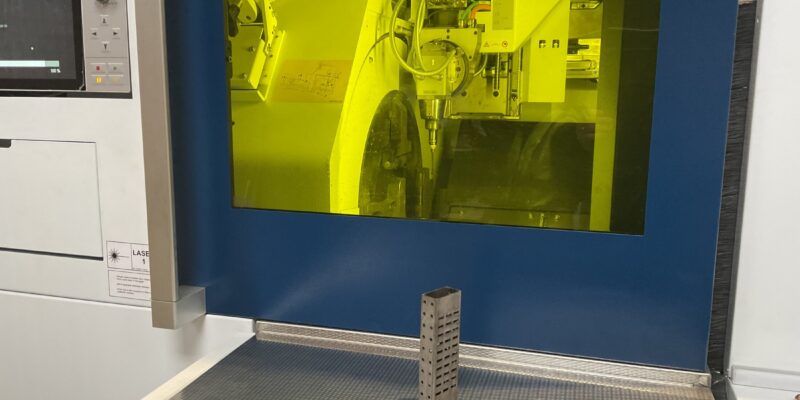 The arrival of a new Trumpf Ltd TruLaser Tube 3000 fiber at Salisbury-based Lasercell Ltd has allowed the company to eliminate the cost of previously outsourcing its tube laser cutting requirements. Alongside the associated reduction in lead time, Lasercell's new in-house capability also means the company can now design many parts more efficiently.
LASERCELL commenced operations in 2012 and has already grown into a 25-employee business. Initially, the company focused on architectural sheet metalwork, installing a flat-bed laser to facilitate this work. However, LASERCELL soon became a notable subcontractor in the region, supplying sectors such as shop fitting, marine and general engineering.
"Primarily we are a laser profiling subcontractor, both sheet and now tube laser," confirms one of three company directors Kieran Bernstein. "It provides a good balance – a fairly even split – with the other side of our business, architectural metalwork. From a subcontract perspective we take on almost anything, although we tend to pick up a lot of thinner gauge laser work in attractive metals such as brass, copper and stainless steel."
Impressive growth over the past decade prompted LASERCELL to investigate the potential for an in-house tube laser facility.
"Not only would a tube laser eliminate the cost of outsourcing, it would allow us to design some of our architectural metalwork differently," explains Mr Bernstein. "Previously, if we had an urgent job, we would have to design folded profiles for features that would normally lend themselves to box section, just so we could produce it quickly in-house using our flat-bed laser and press brakes. By investing in a tube laser we can make it a lot easier and more efficient for ourselves in terms of design and how we join parts together."
LASERCELL looked at a few major manufacturers of tube laser machines before drawing up a shortlist of two. After a comprehensive assessment, the company opted for the TRUMPF TruLaser Tube 3000 fiber, a machine that can accommodate tube diameters up to 152mm and process mild steel up to 8mm thick, stainless steel and aluminium up to 6mm, and copper and brass up to 4mm. The 3kW machine installed by LASERCELL, which is the first of its type in the UK, includes a 3D cutting head and LoadMaster Tube automation with bundle space for up to 4 tonnes of unprocessed material.
TRUMPF has seen enormous growth in the tube laser demand over the past few years, prompting the company to expand its machine portfolio and associated software offer.
"Perhaps the most influential reason behind our choice was TRUMPF's Programming Tube 3D software, which was superior to that of the other potential supplier," says Mr Bernstein. "With Programming Tube, we quickly and intuitively create NC programs. The software offers flexible data import procedures and efficient design, with step-by-step support."
The TRUMPF TruLaser Tube 3000 fiber laser arrived in August 2022 and is busy serving both sides of LASERCELL's business: architectural metalwork and general subcontracting. On a day-to-day basis, the machine processes mild and stainless steel box, angle and tube, as well as brass and aluminium, typically in thin gauge and small diameter material. Occasionally, however, the company will process material up to 5 or 6mm thick.
"Although we've been really busy, the machine is so quick that keeping it fed can sometimes be a challenge," says Mr Bernstein, alluding to the exceptionally fast processing speed of the TruLaser Tube 3000 fiber. "As well as eliminating the need to outsource our tube laser work, reducing lead times and designing parts more efficiently, the new machine gives us a unique selling point when promoting our services. We like to help our customers with their design for manufacture requirements and the tube laser plays a big part in that offer."
Along with laser cutting and bending, LASERCELL offers welding, assembly, polishing, powder coating and galvanising, as well as specialist services such as 3D CAD design, rapid prototyping and even site installation.
"Quality, speed and understanding are what set us apart from our competitors," concludes Mr Bernstein. "We have a lot of engineering knowledge: it's not simply about taking what the customer gives us, it's what we can offer them in return. Our aptitude in problem solving is what brings our customers back."
With business currently flourishing, LASERCELL will continue investing in both technology and people. The company's recent recruitment of an additional five employees ably demonstrates this strategy.