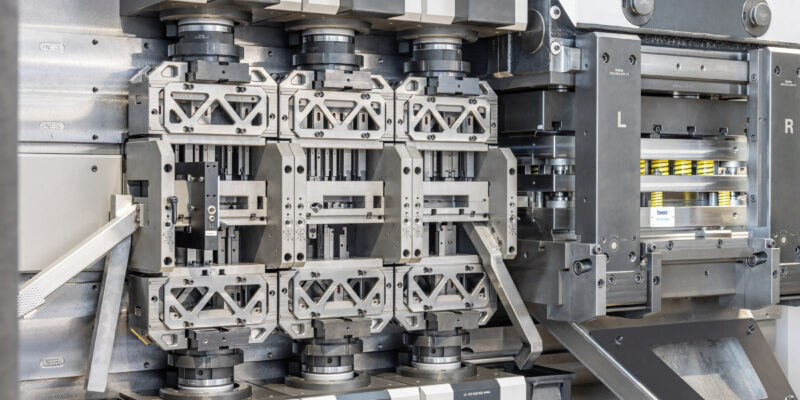 Otto Bihler will be presenting the new generation of modular high-performance linear tools for the first time at Blechexpo 2023. They can now be used to produce linear stamped and formed parts even more precisely in mass production.
The new tool series is designed for high cycle rates of up to 500 rpm and large to exceptionally large batch sizes. The tool modules are used on all machines on which the LEANTOOL L250 modules can also be used – but preferably on the new, cam-controlled LM 2000-KT linear machine. The modules of the new series impress with their extremely high rigidity. Even under extreme load situations with forces from above, below, the side, simultaneously and consecutively, as well as at varying speeds, the displacement or tilting from tool to machine is max. 0.022 mm. This allows particularly high, constant precision in the forming process. Optimization loops to compensate for tool and machine capability are no longer necessary.
High precision with three directions of movement
In contrast to the LEANTOOL, which is designed for strip thicknesses from 0.3 to 2.0 mm and primarily for forming, the new tool modules are designed for strip thicknesses from 0.1 to 1.0 mm and for many other processes. These include free forming, die forming, die beading, roll forming, bend straightening, full coining, hollow coining, collar drawing, push-through, tenon pressing, cutting and cut-off (finished part separation). Due to the new design of the tool frame, the precision-determining offset of the active tool elements is dependent on the manufacturing tolerance of the EDM machine and is max. 0.01 mm. This means that the precision of these modules, which are designed for three directions of movement, is on a par with the most precise single-acting cutting tools. At the same time, the modules remain an open system with the familiar free accessibility to the active parts and shimming plates of the proven Bihler linear tools. This allows users to respond better to process variations and to troubleshoot problems more easily and quickly.
Fast and 100 % reproducible setup
The high-performance modules can be set up very quickly and with 100 percent reproducibility via standardized interfaces and by means of zero-point clamping systems with automatic clamping function. As with the LEANTOOL L250, the complete module is simply set up to minimize machine downtime. Standardization is currently limited to an interface standard between tool and machine. This enables consistent setup operations on different machines and a design standard that is always the same. Standardization will be successively increased during the market launch. The first step will be a design template like LEANTOOL L250 within the bNX software in Siemens NX.