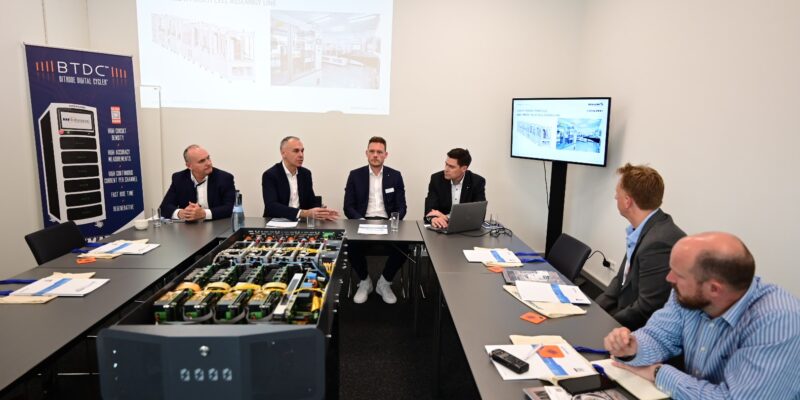 Schuler, Sovema and Bitrode showcase their equipment
for manufacturing and testing at Battery Show Europe
With production lines for battery cell housings, electrical sheets for e-motors and bipolar plates for fuel cells, Schuler already offers several solutions for e-mobility. However, with the acquisition of the Italian Sovema Group and its U.S. affiliate Bitrode Corporation last summer, Schuler can supply systems not only for housings, but complete battery cells. At Battery Show Europe, the companies now showcase their solutions for manufacturing and testing.
"The combination of Sovema's battery manufacturing know-how and Schuler's competence in handling large projects makes us an ideal solution provider for gigafactories", says Hermann Uchtmann, head of the product group. The companies' scope includes both cell assembly and cell finishing, two main process steps to produce cylindrical, prismatic or pouch cells.
As one example for mass production solutions already available, Sovema's General Manager Massimiliano Ianniello presented a fully automated, remotely controllable roll to roll notching machine for the shaping of electrodes with an output of 300 parts per minute. Another example for the company´s portfolio are automated cell finishing plants including intralogistics.
With end of line tests, the quality of the cells is analyzed before they are assembled into modules and then packs. To meet the current and future demands in testing, the Bitrode Digital Cycler (BTDC) was developed, CEO and President Cyril Narishkin added: "BTDC leverages the most recent advancements in power electronics, digital control, and communications to provide a best-in-class solution for cell cycling."