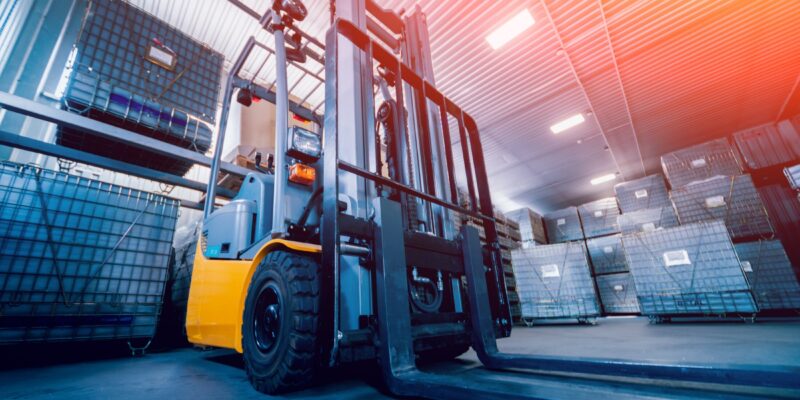 Rhodes Interform, the UK manufacturer of hot and cold forming equipment for metals and composites, has secured a new contract with Cascade (UK) Limited to produce a bespoke twin press facility for forging forklift truck forks. Cascade UK is part of Cascade Corporation, a leading manufacturer of material handling products.
Rhodes Interform will manufacture a complete robotic handling line including a horizontal hot forge upset press, a horizontal bending press and integrated conveying system. The facility will use the latest robotics technology to provide a fully automated solution, replacing an existing manually operated line.
The bespoke project involves Rhodes Interform engineers designing a manufacturing cell to fit within a relatively confined floorspace in Cascade's factory yet still retaining the ability to manipulate and position the product between the two presses. The new fork line will be fully programmable with memory re-call to forge Cascade's small to medium product range, resulting in maximum throughput with minimum inventory.
Peter Anderton, Technical Director for Rhodes Interform, said "We are delighted to be able to supply Cascade with a fully automated process for forging forklift truck arms. The solution we have designed offers accuracy, repeatability and programmable flexibility, with the added feature of process memory re-call. Manufacturing automated solutions is a major part of our business, generating major time and labour-saving benefits for our blue-chip customer base."
Rhodes Interform will manufacture and install the automated line at Cascade's factory in Openshaw, Manchester.
Jed Shaw from Cascade, said: "We are making a major investment in our plant to upgrade from a manual to a fully automated process. We chose to work with Rhodes Interform as the company has the skills and experience to be able to provide a bespoke solution, full turnkey package, technical support and installation capability. This will represent a large step forward in futher facilitating a class leading product."
Rhodes Interform also offers fully certified refurbishment services on any make and model of metalforming and composite press.
About Rhodes Interform
The company offers a wide range of hot and cold forming technologies for specialist metalforming applications across several industrial sectors. In addition, Rhodes Interform's composite machinery is used to produce structural components for production road cars, as well as flight critical components for a variety of aircraft.
As well as manufacturing state-of-the-art presses, Rhodes Interform reconditions and upgrades its extensive range of existing machines at a fraction of the cost of buying new, as well as undertaking refurbishment work on equipment of other makes. The company can also offer full PLC or CNC control system upgrades with software designed to meet the individual requirements of each customer.
All Rhodes Interform' s machinery is supported by a comprehensive aftermarket spares and service team which maintains the company's equipment throughout the world.
About Group Rhodes
The parent company, Group Rhodes boasts a 200-year metalforming machinery history and has manufactured equipment for the forming of composite materials from as early as the 1930s. In addition, the group operates divisions in the heavy ceramics and material handling sectors and has won Queen's Awards for both Innovation and International Trade in recent years.