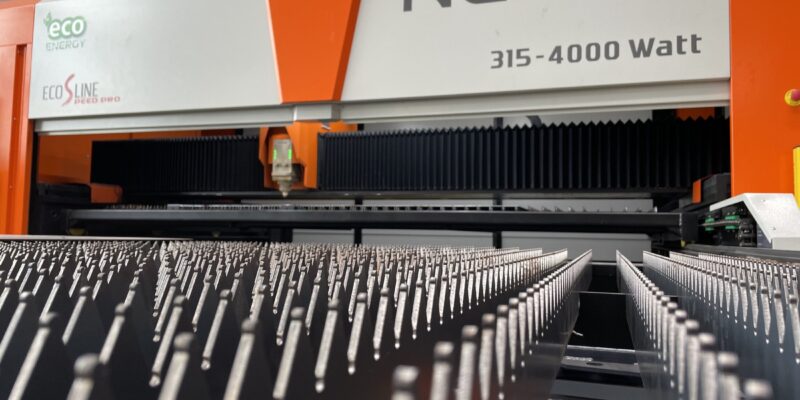 Investing in a Nukon 2D fibre laser machine from Nukon Lasers UK brings significant vertical integration, product development and sustainable manufacturing benefits to Gripple – a world-leading manufacturer of wire joining, tensioning and suspension systems.
A little over 12 months since the installation of a new Nukon 2D flat sheet metal fibre laser machine at its recently opened, net-zero-certified Norfolk Bridge manufacturing site in Sheffield, UK, Gripple reports considerable benefits from the purchase of the machine.
With increasing global sales for its Fast Trak® bracket systems for mechanical and electrical service suspension, a desire to equip its Ideas & Innovation team with greater opportunities for new product development, and a drive to further reduce its carbon footprint through greater vertical integration, Gripple took delivery of a new Nukon 2D fibre laser machine at its Norfolk Bridge facility in 2022.
The machine, a Nukon Eco 315 4kW model, was supplied by Nukon Lasers UK – the exclusive UK and Ireland distributor for Nukon's 2D fibre laser, 3D fibre laser and fibre laser tube cutting technologies, and the sister company of UK-based tube bending machinery specialists, Unison Ltd. Built in Europe, Nukon's fibre laser machines offer highly accessible power and performance, and are equipped with solid state American-made nLIGHT fibre lasers as standard. After considering a number of fibre laser machine manufacturers, Gripple shortlisted Nukon and another leading brand. With the high levels of product quality and capability provided by Nukon machines never in doubt, it was the commitment shown by Nukon Lasers UK's sales director, Steve Haddrell, into fully understanding Gripple's laser-cutting requirements, that secured the sale.
At Gripple's Norfolk Bridge site, production surrounds the manufacture of the company's Fast Trak® bracket systems, as well as solutions for the OLE rail industry and utility solar applications. For this type of work, Gripple typically uses CNC-controlled punch machines, with tooling specific to individual customer requirements. However, with an Ideas & Innovation team continually looking to provide new solutions to the challenges faced by customers, and a company-wide drive to bring even more production in house through a vertically integrated supply chain, it wasn't long before the new Nukon fibre laser began making its mark.
"Following installation, our Nukon fibre laser machine quickly gained a key role in the cost-effective manufacture of our OSHPD OPA-2123-10 seismic bracing and blast protection systems – brackets developed for some of the most demanding environments in the world," comments Claire Tunnard, production manager at Gripple's 21,000 sq. ft. Norfolk Bridge site.
"The machine is also being used to produce components for our lightweight, easily transported solar cable hangers ­– suspended routing systems that are significantly faster to install than traditional underground solar cabling. The ease of programming, speed, accuracy and flexibility of the machine are also providing our Ideas & Innovation team with exciting opportunities for new product development. Added to that, the Nukon fibre laser is being used to produce components for the manufacture of machine tools that will be based at other Gripple sites."
Net zero by 2030
"Investing in equipment such as the Nukon fibre laser also supports our enterprise-wide goal of becoming totally net zero by 2030," adds Claire Tunnard. "We use local component providers whenever possible, for a minimal carbon footprint, with the additional security of manufacturing as many components as possible for our suspension systems in house. This dual source approach ensures security of supply and helps immensely with quality control."
Significant savings from cutting with air
From the outset, Gripple's manufacturing team was impressed with the Nukon laser's build quality, performance and precise cut. "Nukon Lasers UK has shared a wealth of advice and technical knowledge with us, including specific production processes and the most cost-effective gas to use depending on the material being cut. For example, our solar cable hangers are cut exclusively using compressed air – an essentially free medium," says Claire Tunnard. By largely cutting with compressed air, rather than costly nitrogen gas, which looks set to remain at historically high prices, Gripple is also benefiting from significant savings which, in turn, assist it in remaining competitive. In terms of reliability, Gripple reports that the Nukon machine has been trouble-free.
Nukon Lasers UK's Steve Haddrell adds: "At the end of the day, for us, it is all about supporting the customer, whether it's advising on the best fibre laser machine for their needs, achieving a particular finish, or using a particular gas – and all with the highest levels of aftersales service as standard. We have worked closely with Gripple since day one and will continue to do so. Our UK service and support teams are never more than a phone call or short drive away, and we also have the added support of the incredibly helpful and approachable teams at Nukon's European HQ."
The Nukon Eco 315 4kW 2D fibre laser machine purchased by Gripple was specially developed for organisations wishing to add value to in-house manufactured products, and for subcontractors either starting out in 2D laser cutting or with demanding flat sheet metal cutting requirements. Nukon Eco machines offer high-spec features including advanced Lantek Expert CAD/CAM nesting software and American-made nLIGHT fibre lasers, with CutLine Adaptive Beam Shaping.
About Nukon Lasers UK
Nukon Lasers UK is the exclusive UK and Ireland distributor of Nukon's European-built 2D, 3D and tube fibre laser cutting machines and loading & unloading solutions. Nukon fibre lasers combine high speed and high precision with exceptional value and build quality, as well as incredibly low running costs. The Nukon Lasers UK team offers first-class machine tool service, training, maintenance and technical support, in addition to service contracts and service level agreements that can be tailored to specific requirements.
www.nukonlasers.co.uk
About Gripple
Gripple is a world-leading manufacturer of wire joining, tensioning and suspension systems as used in construction, agriculture, solar energy and the utilities sector. The business was established in 1989 in Sheffield and today employs more than 950 people across 15 global locations. Immensely proud of its Yorkshire roots, Gripple manufactures across five sites in Sheffield. A 100 percent employee-owned company, it has a unique approach to business, characterised by investment in people, innovation and sustainable growth. Gripple aims to be fully net zero by 2030.
www.gripple.com