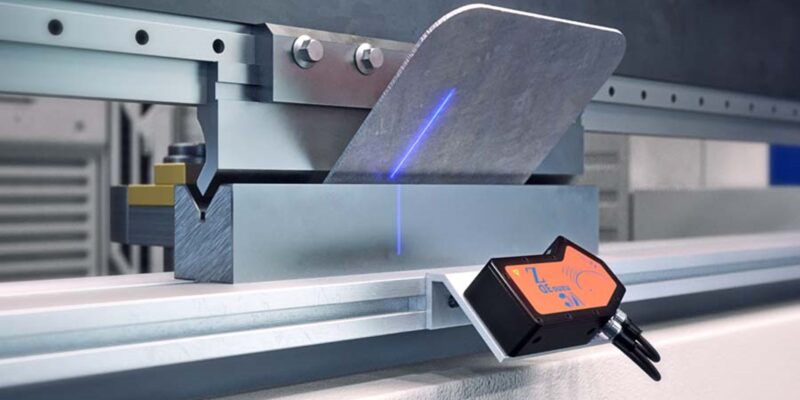 Vision Components presents its solution for angle measurement in metal processing at the Blechexpo fair, held from November 07-11 in Stuttgart. The system is aimed at bending machine manufacturers and distribution partners. It can be integrated quickly and easily, requires no external computing unit, and is already fully calibrated for angle accuracy testing. Leading bending press manufacturers and controller suppliers have already enabled the integration. Vision Components will host a webinar prior to the show as well as a technical presentation live at Blechexpo.
Vision Components at the 16th Blechexpo: Booth 5214
Webinar and trade fair presentation on optical angle measurement
At the show, Klaus Schneider, VC chief engineer and VC Vice President of Sales Jan-Erik Schmitt will also give a presentation, on November 08th at 1:20 p.m. in the BEST Forum Hall 9, Booth 9315 FORUM.
Leading manufacturers integrate VC sensors
Optimized for sheet metal bending applications, the VC nano 3D-Z laser sensor has a large sensing range and can cover dies from V6 to V200 with a fixed mounting position, with a typical accuracy of +/- 0.1°. It comes standard in controls from Cybelec, Delem, ESA, Laimore and Step Automation, and only needs to be activated. Press brake manufacturers such as Deratech, Doray and Placke offer the sensors along with their machines.
Deratech recently unveiled its latest Electra electric sheet metal bending machine, which can also be configured with Vision Components' bending angle sensors to check and adjust the bending angle during the pressing process.
About Vision Components
Vision Components is a leading manufacturer of embedded vision systems with over 25 years of experience. The product range extends from versatile MIPI camera modules to freely programmable cameras with ARM/Linux and OEM systems for 2D and 3D image processing, including angle measurement for sheet metal bending. The company was founded in 1996 by Michael Engel, inventor of the first industrial-grade intelligent camera. VC operates worldwide, with sales offices in the USA, Japan and Dubai as well as local partners in over 25 countries.