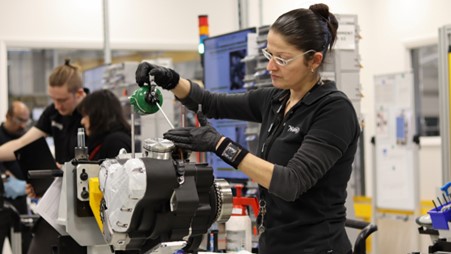 A 2022 report by the Automotive Council UK revealed that, "the overall automotive manufacturing sector lags behind other UK industries, with women representing 12% of the workforce compared with 47% in the UK workforce as a whole." That being said, more and more women are considering a career in the automotive industry and Norton fully embraces this.
Norton Motorcycles celebrated International Women's Day earlier this year by shining a spotlight on the achievements and successes of some of the incredible women making an impact at Norton.
TANIA GOMES, ENGINE BUILD OPERATIVE
"I've always loved engines, cars, and motorcycles, so learning up close how everything works is very interesting and rewarding. However, it can be challenging and comes with a lot of responsibility.
My role at Norton is to assemble engines; whilst strictly complying with the engine assembly processes and procedures. We have to prepare all the necessary tools, such as lubricating and pre-soaking some parts for a few hours ahead of build, together with pre-assembling parts such as pistons. My Station is number three, where I complete and finalise the engine assembly process, before it moves on to the production line and into a chassis.
If you are considering an automotive career then don't be intimidated; female characteristics in an automotive business can be a perfect combination for success. Women bring flexibility, technique, empathy, negotiation and can contribute to a lighter, cleaner and more organised working environment.
International Women's Day earlier this year reflected on the struggle and celebration of women's achievements and victories. Although we are in the 21st century, many women face difficulties in having basic rights guaranteed around the world."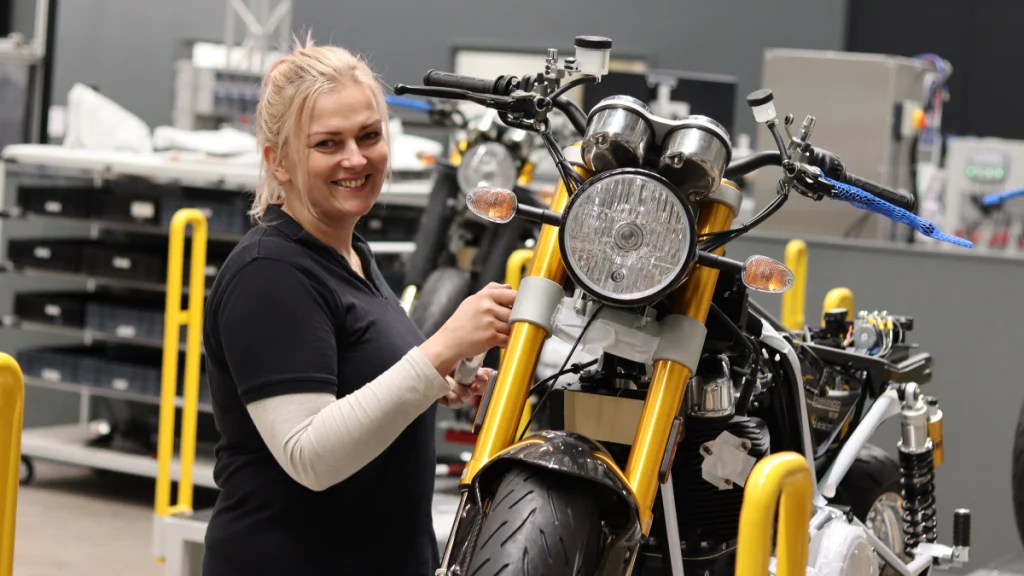 EWELINA PAWLAK, ASSEMBLY OPERATOR
"As an Assembly Operator, my main job is to assemble the parts in the last stage of bike construction, such as fitting the exhaust, connecting the tank and fitting bodywork. Occasionally I may lend a hand on other build stations for instance, mounting the engine into the frame, connecting the wiring or fitting wheels or chains.
Seeing a bike reach the end of the production line is very rewarding, especially to know I played a part and contributed to making a customer very happy.
My advice to young women would be to believe in yourself and do what makes you happy, because at the end of the day that's what's important.
"My role at Norton is a Buyer, working within the Procurement Team. This involves looking after commodities such as fixings for various systems and machine parts.
What I love most about my role is seeing progress and being able to communicate with different people on a daily basis. Whether it's with internal teams or external suppliers, there is always the opportunity to learn from one another and work together towards a common goal.
My advice for others is always be yourself and spread your positive energy amongst others.
I have been celebrating International Women's Day since I was a young girl. I love this celebration and everything it stands for – it means a lot to me."