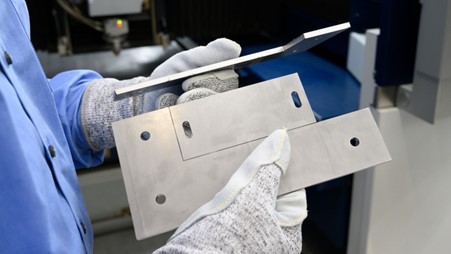 TRUMPF used its annual INTECH in-house exhibition in March to showcase solutions designed to boost sustainability and productivity in connected manufacturing. Alongside technologies to lower the consumption of materials, energy and cutting gas, the exhibition also featured processes to reduce or eliminate the use of environmentally harmful chemicals in automotive manufacture.
Lower emissions, higher productivity
New developments on show included the Eco Cooler, an innovative technology that uses nothing but pure water to cool TRUMPF laser-cutting machines. This reduces energy consumption for refrigeration by 80 percent and dispenses entirely with environmentally harmful refrigerants. TRUMPF also showcased Highspeed Eco, a process that reduces gas consumption in laser cutting by as much as 60 percent. Other exhibits presented technology designed to reduce the use of materials in manufacturing. Among these is the nano-joint process, which substantially reduces the size of the retaining tabs that connect parts to the sheet from which they have been cut by laser. This means that parts can now be nested right next to one another, thereby reducing the amount of waste material in the skeleton.