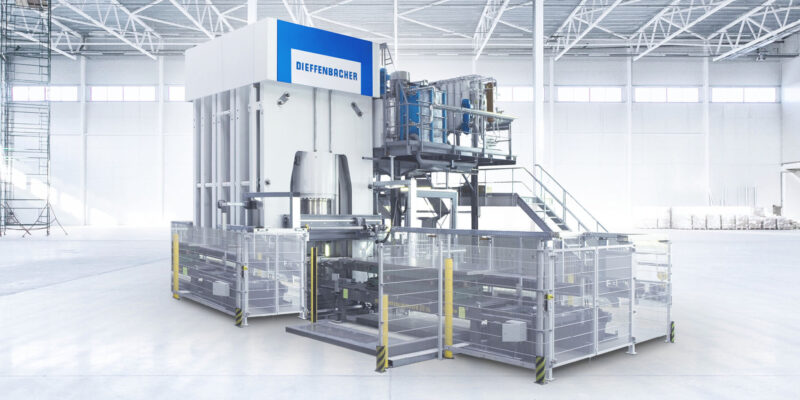 DIEFFENBACHER and Jung Werkzeugbau at Blechexpo 2023 in Stuttgart, Germany
From November 7 to 10, DIEFFENBACHER and its subsidiary Jung Werkzeugbau will showcase metal forming solutions at Blechexpo 2023 in Stuttgart in Hall 4, Stand 4120, at the stand co-hosted by Wirtschaftsförderung Raum Heilbronn. "Our joint system solutions with sustainable energy concepts offer customers fully automated hydraulic press lines and associated tool technology," explains Billy Ege, member of the management board of Jung Werkzeugbau.
As a manufacturer of high-precision press systems, DIEFFENBACHER enables the production of efficient heat exchangers that are used in various sustainable energy-generating solutions. The efficiency of a plate heat exchanger is determined by, among other things, the accuracy of the embossing depth. Thanks to its multi-cylinder solution and solid frame design, the DIEFFENBACHER embossing press fully meets exacting requirements for embossing depth and manufacturing accuracy. The multi-cylinder concept compensates for the deflection of the ram and table, thus ensuring parallel closing under pressure. The result is optimum component quality without any underlaying of the molds.
Visitors to the DIEFFENBACHER booth will also see various solutions for saving materials and energy. With extensive diagnostic options, the EVORIS digitalization platform helps plant operators save energy and raw materials. For example, the EVORIS Reports app provides information about conspicuous deviations in production related to individual process parameters, overall plant performance and cycle time. The app also shows consumption values for the entire plant, highlighting anomalies between production output and energy consumption. The Anomaly Detection app detects deviations on all machines and plant components involved in production, which can then be counteracted in a targeted manner. For example, the production of defective products can be detected and avoided at an early stage.
In addition, the DIEFFENBACHER TailoredPress can reduce energy use up to 70%, depending on the application. Variable-speed pump drives minimize unnecessary energy consumption, which can occur, for example, during loading and unloading, setup and maintenance of the press, and even in many phases of the normal press cycle. Control is fully automatic. The operator sets forces, paths and parameters as usual, and the required speed is automatically calculated and set. In this way, the pump always operates in an optimal range and works efficiently.
To help customers improve efficiency, Jung Werkzeugbau uses forming simulations. Special software simulates the process of all forming stages. Precise conclusions can then be drawn about the component at the respective stage, identifying, for example, whether cracks, wrinkles or impermissible thinning occur, and the minimum amount of material required. This enables the experienced technicians at Jung Werkzeugbau to make definitive judgments about manufacturability, the required forming stages, forces, materials and sheet thicknesses at a very early stage in the component development process. Development loops with the finished forming tools are eliminated or reduced to a minimum.
In addition to embossing stainless steel used in the production of heat exchangers and other products, the joint portfolio of DIEFFENBACHER and Jung Werkzeugbau features press lines for stainless steel forming. For example, the multi-point drawing system Multi-Point-Control (MPC), which has a successful 20-year track record, allows the production of complex geometries through targeted control of the material flow for maximum design freedom. MPC is used in the production of kitchen sinks and similar applications.
"We are very happy to have a joint stand at Blechexpo for the first time, where we can show visitors our combined competencies," says Georg Obermaier, Head of the Forming Business Unit at DIEFFENBACHER. "DIEFFENBACHER and Jung Werkzeugbau are the perfect combination for automated, digitalized and sustainable state-of-the-art metal forming solutions."