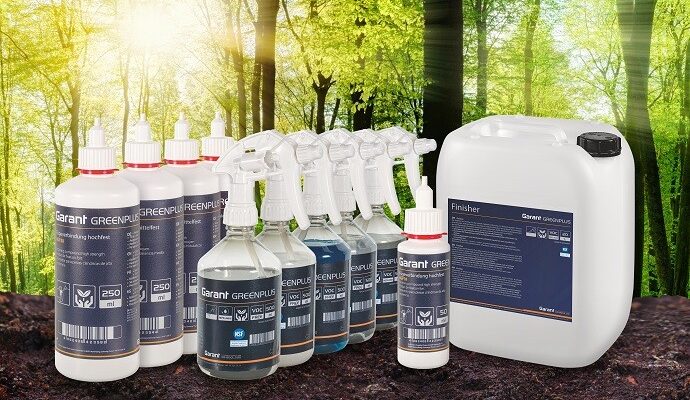 The Hoffmann Group is launching non-hazardous chemical-technical products for workshops and production under the GARANT GreenPlus brand. With this new offering, Hoffmann Group supports companies on the way to greater sustainability. Cleaning agents and anaerobic adhesives make the start. The new GARANT GreenPlus cleaners and adhesives are now available in the eShop of the Hoffmann Group: www.hoffmann-group.com.
Conventional cleaning agents and adhesives often contain aggressive solvents. But there is another way. The new GARANT GreenPlus line focuses on the performance of its products as much as on the impact on people and the environment. All GreenPlus products are non-hazardous in accordance with the CLP Regulation. It is therefore not necessary to store the products in a hazardous substance storage facility or train personnel how to handle them. This simplifies work processes, protects the environment, and reduces the costs for occupational health and safety measures, storage, and disposal.
The GARANT GreenPlus cleaning series consists of powerful products that cover the most common areas of application in workshops and production. The cleaners are water-based and VOC-free or strongly VOC-reduced compared to conventional agents. For example, the three degreasers can be used as an alternative for combustible solvents, cold cleaners, brake cleaners and strongly alkaline cleaners; the rust remover removes not only rust but also lime and mineral contaminations; the stainless steel cleaner cleans and nourishes the surfaces. All products bear the NSF mark. This means that they have been tested by the NSF, the independent international foundation for health care, and are even approved for use in the food industry. In addition, there is a welding separating agent with cleaning effect for all common welding applications from MIG/MAG welding to laser cutting. Workpieces and welding accessories are protected during the machining process and weld spatter adhesion is effectively prevented. Immediately after the welding process, follow-up processes such as galvanising or painting are possible without any issues.
GARANT GreenPlus adhesives include thread locking, thread and surface sealants, and retaining compounds. Anaerobic adhesives are often used to strengthen the sealing effect of a mechanically joined connection. The adhesive is cured only after the exclusion of oxygen (= anaerobic). A non-hazardous thread-locking fluid rounds off the range.