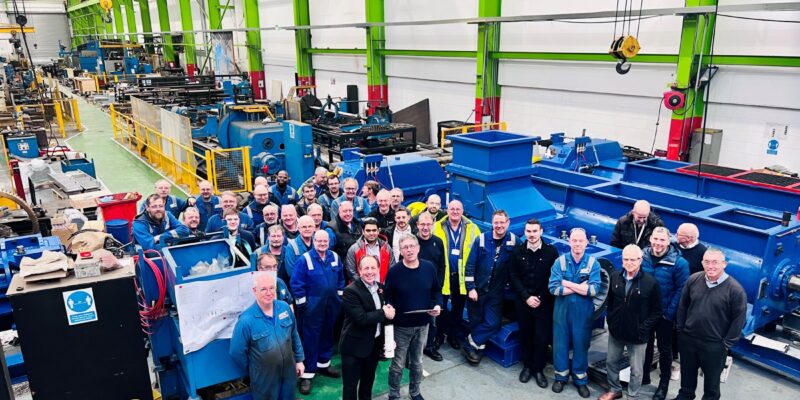 Wakefield-based Group Rhodes, an original equipment manufacturer supplying an extensive range of machinery, marked the retirement of one of its most experienced machinists Gwyn Jones recently, after 54 years with the business!
Gwyn joined the company in 1968 as an Apprentice on an Engineering Industry Training Board (EITB) scheme. He quickly took a liking to machining and over the years has become one of the companies most highly skilled operators, retiring as senior cell leader.
Gwyn worked at the business under three owners; Lindustries plc (1961 to 1979), Hanson Trust plc (1979-1984) and the subsequent management buy-out team led by Ian Ridgway and John Blacker in 1984.
Mark Ridgway, OBE, Chief Executive of Group Rhodes, said: "We are very sad to say goodbye to Gwyn. As one of our longest serving employees, he is highly experienced and has been involved in many of our major manufacturing projects for the global aerospace sector and other industries. He will be greatly missed and we wish Gwyn a very long and happy retirement."
It is interesting to note that the year Gwyn joined Group Rhodes, 1968, was also the year in which the company finally closed its railway siding. The business had used rail to distribute freight before the final section of the M1 (from Rotherham to Leeds) was completed, enabling the company to effectively transfer to road haulage. Wakefield Rugby League fans will also recall that 1968 was the year of the iconic 1968 'Watersplash' Rugby League Challenge Cup Final between Wakefield and Leeds!
Gwyn's colleagues at Group Rhodes carried out a collection on his behalf, which he plans to spend on garden furniture to enjoy with his family – and on his favourite sport of fishing.
Group Rhodes, based in Wakefield, boasts a 200-year history of metalforming machinery manufacture and has also been producing presses to form composite materials from as early as the 1930s. In 2001 it also acquired Craven Fawcett Limited, a manufacturer of machinery for the heavy ceramics industry. The company has won Queen's Awards for both Innovation and International Trade in recent years, particularly for its work in the aerospace sector.
Group Rhodes is the parent company for Rhodes Interform, Craven Fawcett and Hallamshire Engineering Services.