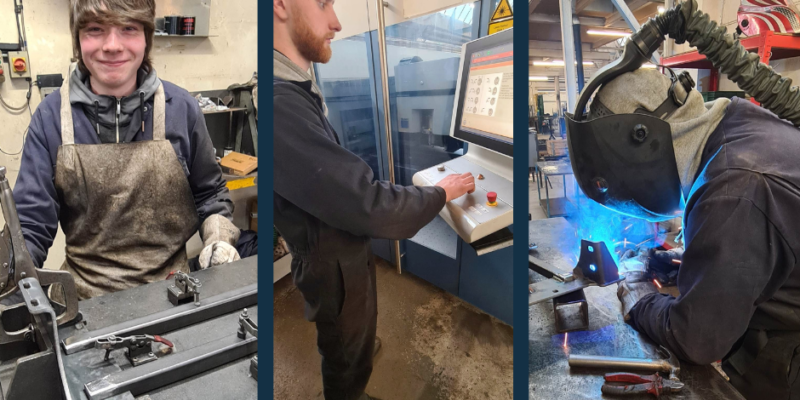 National Apprentice Week is upon us, with the theme of "Skills for Life." At Grenville, we have a proud tradition of developing successful apprentices, many of whom have risen through the ranks to become senior leaders within the company. Our commitment to providing training, mentorship, and on-the-job experience has helped us maintain high standards of quality in our products and services.
Several of our longest-serving employees began their careers as apprentices, including Stuart Rawlinson, our Sales Director of 28 years, Steve Vaughan, our Responsible Welding Coordinator of 25 years, and Mark O'Leary, a Fabricator Welder who has been with us for 21 years and is now a Quality Inspector. Other notable examples include John Curwen, our Senior Team Leader of 19 years, and Brendan Johnson, a Team Leader of 10 years.
Currently, we have five apprentices in our ranks, each receiving personalized mentorship and training from our skilled team. Harry, for example, has advanced to level 3 in just three years, gaining valuable knowledge and skills working alongside one of our top fabricators. Ryan has gained a deep understanding of machining through hands-on experience, while Josh's natural talent and enthusiasm for fabrication and welding is sure to make him a great asset in the future. Ethan has made significant progress in operating the laser and welding, and Lewis, our newest apprentice, is already showing improvement under the guidance of his mentor.
We are dedicated to supporting the growth and development of our apprentices, and to that end, we have plans to increase our apprenticeship program and potentially establish a training school in the future. Starting in April, our Quality Inspector, Steve Tinsley, will spend one day a week teaching our apprentices to read technical drawings, a valuable skill that will serve them well as they manage their own fabrication projects.
Apprentices play a crucial role in our business, and we are committed to providing them with the opportunities and support they need to build successful careers.