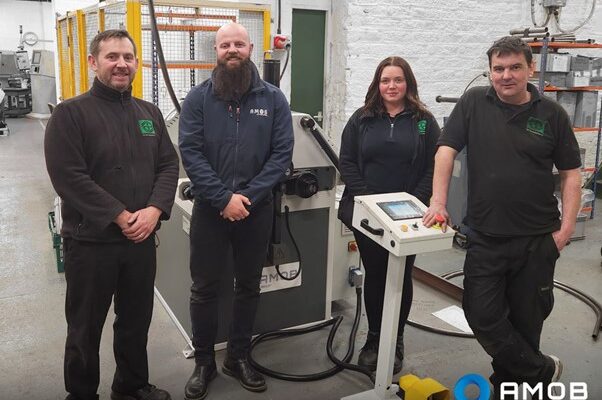 West Yorkshire based tube manipulation company, F&S Tube Manipulation, have recently reinvigorated their fabrication potential with a brand-new MAH -40/3 CNC ring rolling machine from AMOB UK.
The purchase of the machine follows the recognition for the need to modernise, allowing much-needed reliability, but also an injection of technology.

'Our previous machine had limited parts it could produce. The new AMOB machine has a much wider potential of parts it can produce' commented Maxine Mettrik, Accounts and Office Manager of F&S Tube Manipulation Ltd. She continued, 'the previous machine was also unreliable, and would often break down. We started looking for a replacement and came across AMOB UK's website'.

The new machine at F&S is an MAH-40/3 CNC ring roller. This high-tech machine has an HMI touchscreen, a high-capacity storage programme, and both manual and automatic working modes. With this bender, F&S Tube will now be able to greatly increase their fabrication potential, and in turn, improve their ability to serve their customers to the standard required.

When asked how this machine will impact their business, Maxine said, 'As this machine is CNC, we can now produce more accurate batches, and at quicker speeds.' Ms. Mettrik also went on to say; 'Furthermore, we also produce less scrap, which reduces our costs dramatically'.
F&S TUBE MANIPULATION LTD
F&S has been providing tube bending services since 2002. From our initial start in Brighouse, concentrating initially on providing gas inlet pipes for gas fire manufacturers, the business has expanded into all areas which require bespoke tube manipulated products. For over 20 years they have provided high-quality tube forming services not only within the UK, but also throughout the world, offering their customer a complete solution to their tube bending requirements.

When asked to comment, Managing Director of AMOB UK Tom Wood said; 'F&S Tube's machine was installed, commissioned, and trained on earlier this year, and we expect their company development to be significant with the modernisation and advancement of their new section roller. The sky is the limit now! We look forward to working together closely with them for years to come.'
"The Amob UK Support has been good, and we are confident that the support will continue"
Maxine Mettrik, Accounts and Office Manager of F&S Tube Manipulation Ltd.