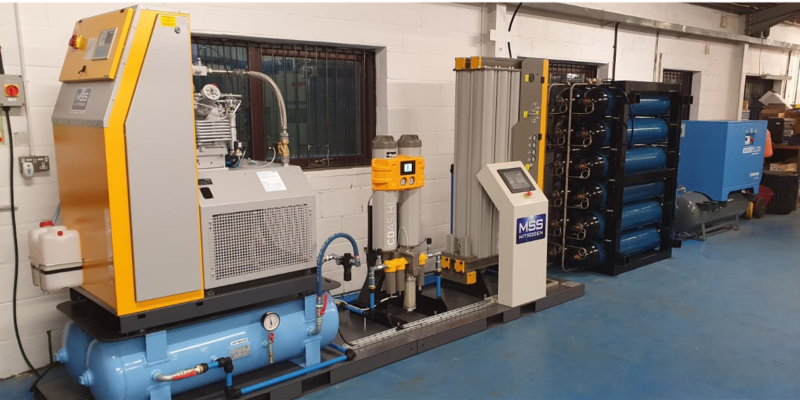 St Neots based Formet UK have recently taken delivery of a new high pressure nitrogen generation system with the latest specification MSS Nitroskid. Having recently taken over the business, new owners Anthony & Moira Blumberg were keen to improve their green credentials and get better control of their operating costs.
For a number of years Formet have used multi cylinder pack nitrogen bundles from traditional gas suppliers, Anthony & Moira commented 'bundled gas provided us with nitrogen but the cost was relatively high, plus we had to manage regular deliveries; the MSS Nitroskid system provides us with an excellent alternative that provides tangible cost benefits with minimal servicing requirements. We now have no weekly gas deliveries and we have saved a lot of space in our modest sized facility'.
The Nitroskid 1 system provides high pressure nitrogen up to 300 bar at 99.9975% purity which comfortably meets the application requirements of the fiber laser. The system combines all the features of the MSS Nitrocube system but mounted on a slimline skid system. The latest generation Nitrocube is more efficient than ever using 25-40% less energy to generate higher purity nitrogen than achieved with older systems were capable of.
Anthony commented that 'the installation work surprised us as everything was completed in a single day, the Nitroskid gives us great confidence in our nitrogen supply'.
MSS Sales Director, Chris Smith commented 'this system was built specially for Formet to allow installation with the minimum of disruption to product flow in the limited production area. Formet have chosen to rent this system which gives them the benefits of MSS nitrogen cost savings without touching their capital'.
Chris also comments 'the latest generation MSS Nitroskid is the most efficient and flexible system available anywhere in the world, we have over 800 systems like this installed in the UK & US and the popularity of this product is growing very quickly in a number of important overseas markets as well, this latest product incorporates all we have learnt from high pressure nitrogen systems for laser cutting applications over the past 20 years'.