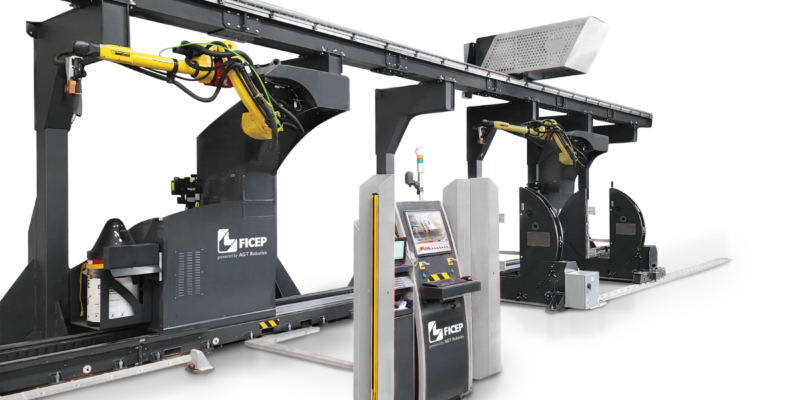 Ficep UK has launched a new automatic and robotic processing solution, the request from the market is for a quality welding system to help address skilled labour shortages and increase productivity.
In an exciting new partnership with AGT Robotics, Ficep has launched the SABRE welding robot to seamlessly tackle the most challenging and labour-intensive processes that fabricators are facing in today's structural steel fabrication market.
The SABRE complements Ficep's existing machine range by performing the robotic welding of all secondary components on the main member. The SABRE automatically senses all the relative surfaces so the robotic welding process can be generated without any manual manipulation. The operator simply needs to load the section after the detail has been tack welded at the proper locations into the automated welding positioners.
Combining the Ficep SABRE welding robot with Ficep E Lexington system, which makes laser marks on the steel to indicate locations and welding codes, can match the productivity of up to eight employees who would traditionally use manual layouts and welding.
Further simplifying the process, its unique software automatically downloads the CAD data, or auto-generates welds as per customer specifications. This eliminates the need for manual programming or adjustments. As the robot welds the first section, the operator can load and tack weld the next section into a second set of rotators and using the E Lexington will see the position of the secondary part with high quality laser lines. Once the SABRE has finished welding the first section, the robot moves to the next section for welding while the first section is being unloaded by the operator.
Ficep UK sales director, Chris Berriman, says, "We are delighted to bring the new SABRE and E Lexington system to the UK. It is an impressive, yet competitively-priced, robotic welding system which eliminates manual layouts and automates the welding processes of rolled structural steel shapes and fabricated beam sections. It has camera vision for scanning parts and, coupled with its reliable software, further improves productivity. What's more, the SABRE has the smallest footprint of any robotic welding system offered to the UK market, which helps free up customers shop floor."
Ficep UK's dedicated engineering team will review customer applications and work with them to design the proper configuration for their facility. As it is a modular system, the integration of the SABRE can be implemented in stages, if desired, therefore reducing any disruption to operations.